Eclair Cake tastes like an eclair but needs only a fraction of the work to prepare it! This simple-to-make cake starts with layers of graham crackers and French vanilla cream. It's topped with a three-ingredient chocolate ganache and then chilled in the fridge until ready to eat. No baking required!
This eclair icebox cake is the perfect make-ahead dessert. It stores well, transports nicely, and is a great treat to make when you don't want to turn on the oven.
Eclair Cake
This cake couldn't be much easier to make — it only takes minutes to whip together and honestly tastes like you've slaved away all day in the kitchen! The flavors mimic a chocolate eclair — the vanilla pudding layer tastes just like the vanilla pastry cream filling you'd find in an eclair. The filling on this eclair cake has a prominent vanilla flavor without being overly sweet. It's smooth, creamy, and not overly heavy (thanks to the whipped topping lightening it up!) 
The chocolate ganache topping this cake tastes similar to the chocolate icing you'd find on an eclair. It's rich, thick, and smooth — the perfect topping for this cake.
While making chocolate eclairs from scratch can take many hours and quite a few more ingredients, Eclair Cake is the perfect shortcut recipe. There are only eight ingredients in this cake and each aspect of the cake takes less than 10 minutes to whip together.

How to make Eclair Cake
Prepare filling. The filling of Eclair Cake uses only three ingredients! Vanilla pudding mix, milk, and whipped topping. We love French vanilla pudding mix in this cake. 
Layer ingredients. Once the filling is prepared, it's all about the layering. Graham crackers form the first layer, and next we add half of the pudding/filling mixture. Another layer of graham crackers and the rest of the pudding/filling is spread on top. Finally, we add one more layer of graham crackers.
Prepare the chocolate ganache topping. Once the cake is layered, the ganache goes on top. The ganache is only three ingredients — chocolate chips, heavy cream, and butter. Microwave the ganache until smooth and spread it evenly over the cake.
Homemade "Cool Whip"
If you want an alternative to frozen whipped topping, you can make your own whipped topping. Depending on how sweet the pudding mix is, you might want to reduce the amount of sugar in this. Here's the recipe:
1 cup heavy cream
1/2 cup powdered sugar
1/2 teaspoon vanilla extract
In a mixing bowl attached to a stand mixer (with a whisk attachment) add in the 1 cup heavy cream, 1/2 cup powdered sugar, and 1/2 teaspoon vanilla extract. Beat to combine, and then increase the speed and whip until firm peaks form, about 2-4 minutes. With a spatula, fold the whipped topping into the vanilla pudding.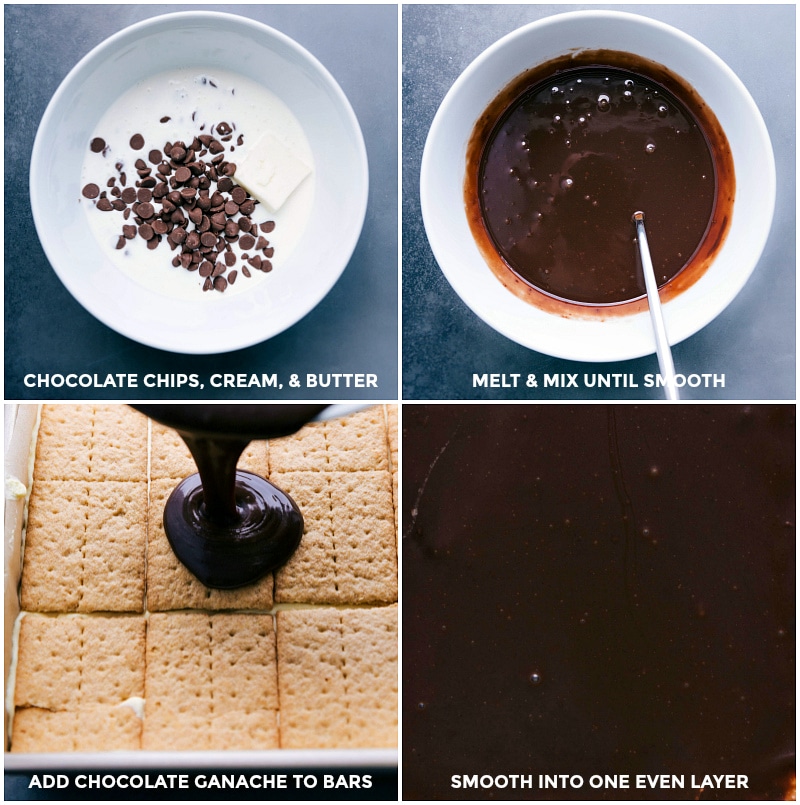 Eclair Cake tips
Thoroughly whisk pudding and milk. To avoid any unpleasant textures, take time to briskly and thoroughly mix the pudding with the milk.
Allow for plenty of chilling time. For best results, this eclair cake needs 8 hours to fully chill and set up. This allows time for the graham crackers to soften into a cake-like consistency — a must for an icebox cake. Chilling time also allows the ganache to set up and the pudding layer to thicken.
We use whole milk to ensure an ultra-thick, creamy, and rich filling. If you are watching calories or fat, 1% or 2% milk will work. I don't recommend skim milk or milk alternatives; in my experience these milks don't thicken up enough.
Make sure the frozen whipped topping is completely thawed. If the whipped topping is at all icy, it won't fold or mix in nicely to the pudding.
Ganache tips
Melt the chocolate slowly: To avoid burning or seizing the chocolate, make sure to take your time melting the chocolate ganache mixture. Make sure to stir in between each burst of microwaving the mixture. Remember, the chocolate is still melting even outside of the microwave. 
Don't worry if the ganache doesn't look perfect; you can add on some miniature chocolate chips or crushed graham crackers to cover up any imperfections.
For cleaner and easier slicing, between slices, run the knife under hot water and then wipe off with a towel.
Eclair Cake variations
Sugar-free: If you are watching calories or sugar, sugar-free pudding mixes can be used in place of the regular pudding mix. You can also use a sugar-free or lite frozen whipped topping.
Add chocolate frosting. Feel free to use your favorite chocolate frosting recipe (or even store-bought frosting) in place of the chocolate ganache topping.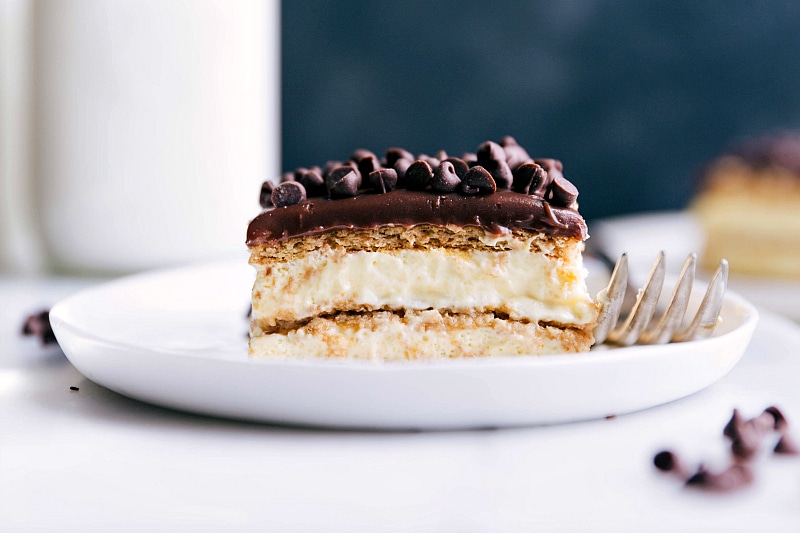 More dessert bars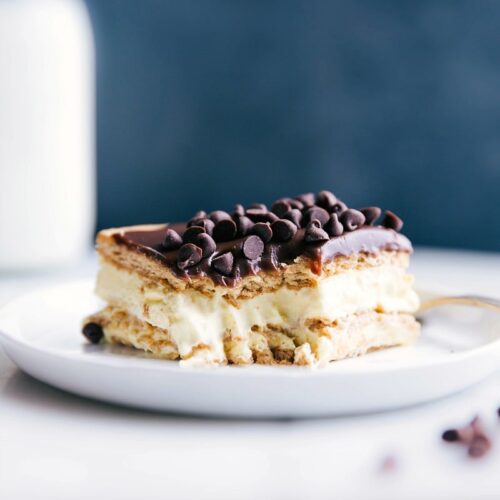 Eclair Cake
Eclair Cake tastes like an eclair, but needs only a fraction of the work to prepare it! This simple-to-make cake starts with layers of graham crackers and French vanilla cream. It's topped with a three-ingredient chocolate ganache and then chilled in the fridge until ready to eat. No baking required! 
Course: Dessert, Vegetarian
Cuisine: American
Keyword: eclair cake
Servings: 24 servings
Calories: 190 kcal
Ingredients
Eclair Cake
2

boxes (3.4 oz; 96g EACH)

French vanilla instant pudding

3 and 1/2

cups (840g)

whole milk

(1% or 2% will also work)

1

package (8 oz; 226g)

frozen whipped topping,

completely thawed (like Cool Whip)

1

package (14.4 oz; 408g)

honey graham crackers

(See Note 1)
Chocolate Topping
1 and 1/4

cups (190g)

milk chocolate chips

(or semi sweet chocolate chips work)

2/3

cup (140g)

heavy cream

1

tablespoon

unsalted butter
Instructions
PUDDING FILLING: Pour the milk into a large bowl. Add in both packages of pudding mix and whisk to combine. Briskly whisk until completely smooth and no lumps remain, about 2-3 minutes. A hand mixer can be used instead of a whisk, if desired. With a spatula, gently fold in the completely thawed whipped topping until well incorporated.

ASSEMBLE CAKE: Lightly spray a 9×13-inch pan with non-stick cooking spray. Add a layer of whole graham crackers on the bottom of the pan. (You will likely need to break some graham crackers in half to cover the entire bottom of the pan.) Add half of the pudding mixture on top of the graham crackers. I like to add big spoonfuls all over the graham crackers and then use the back of a spoon or spatula to gently spread into an even layer. This takes some patience to keep graham crackers from sliding.

REPEAT LAYERS: Add another layer of graham crackers on top of the pudding. Add the rest of the pudding mixture and again, smooth into one even layer. Add the last layer of graham crackers on top, making sure to cover all of the pudding. Place cake in the fridge while preparing the ganache.

CHOCOLATE GANACHE: In a medium-sized microwave safe bowl, combine the milk chocolate chips, heavy cream, and the butter. Microwave for 30 seconds. Remove and stir for at least 20 seconds. Return to the microwave in bursts of 15 seconds, stirring after each burst for 15-20 seconds until completely melted and smooth. Let stand at room temperature for 5 minutes to slightly cool. Pour over the cake and gently spread over the graham cracker layer.

CHILL: Cover bars and chill 8 hours or overnight in the fridge. This allows the pudding to thicken and to soften the graham crackers into a cak- like consistency. Let cake stand for 5 minutes at room temperature before cutting and serving. Use a hot, sharp knife (run it under hot water, dry with a towel) to make cuts into the bars. Use a metal spatula to pull out bars. Serve and return any leftovers (covered tightly) to the fridge.
Recipe Notes
Note 1: I usually buy two boxes of graham crackers since there will usually be a few graham crackers crushed up or broken to the point of not being useable in the cake. With two boxes, you can be sure you'll have enough crackers for the cake.