How To Get From Pattaya To Koh Larn? Coral Island Pattaya Travel Guide.
Have you ever seen the photos of heavenly beaches with pristine turquoise seawater? I bet some of them must have been taken in Coral Island Pattaya. After spending months traveling around Thailand, there is one thing I know for sure- Koh Larn is one of the most beautiful, yet still undiscovered places in the country. In this guide, you will find all the information you need to plan your visit to this breathtaking island. Whether you take a ferry from Pattaya to Koh Larn by yourself, or you decide to join Coral Island tour, this post will help you in organizing everything.
Pattaya to Coral Island distance is short: only 7 km (4.5 miles), which makes it a perfect destination for the Pattaya day trip.
How To Get From Pattaya To Koh Larn Island?
Coral Island Pattaya is really small, so there's no airport there.
If you wonder how to go to Coral Island from Pattaya, you have 3 options to choose from:
Pattaya to Koh Larn Ferry
See also our post with day trip from Bangkok to Pattaya itinerary or a general post of ways to get from Bangkok to Pattaya.
If you are traveling on a budget, it's the best choice for you. Pattaya to Coral Island ferry cost is just 30 THB per person (which is less than $1). It will take about 30-40 minutes to get to the Island. The ferry is leaving from the Pattaya pier.
Pattaya to Koh Larn Ferry Times:
7 AM
10 AM
12 PM
2 PM
3:30 PM
5 PM
6:30 PM
From Koh Larn To Pattaya Ferry Times:
6:30 AM
7:30 AM
9:30 AM
12 PM
2 PM
3:30 PM
4 PM
5 PM
6 PM
The ferry will take you to the main pier – Naban Pier.
However, if you want to make a day trip from Pattaya to Koh Larn and you are interested in spending a day on the beach, it's better for you to take a ferry directly to Tawaen beach.
Ferry from Pattaya to Tawaen Beach:
Ferry from Tawaen Beach back to Pattaya:
Speed Boat From Pattaya To Koh Larn
The cost of hiring a private speed boat from Pattaya to Koh Larn ranges between 1,500 to 2,500 THB ($50-$80). It's a good choice if you are a luxury traveler, or you are simply with a group. The boat can accommodate up to 8 people. It's still more expensive than a Koh Larn ferry.
For now, you can't book a speed boat Pattaya to Koh Larn island online, so you need to go to the pier and find the boat there. If you are interested in a luxury experience, check out this private Coral Island tour by TripAdvisor.
Pattaya Coral Island Tour
If you don't want to plan everything by yourself, you can book Coral Island Tour Pattaya. There are many options out there including:
Coral Island Tour With Lunch
You will be picked up from the hotel, taken to Ko Larn island where you can relax on the beach. The lunch is included in the cost of the tour, so it's a really interesting option. What's awesome, Pattaya Coral Island tour price is very low- about $20 per person. More info here.
You may also check out the Coral Island Tour with Indian Lunch. 
Coral Island Tour Pattaya With Lunch and Watersports
It's an upgraded option of the basic Coral Island tour. You can choose what watersports you want to try: parasailing, snorkeling, or others.
There are many awesome things to do in Coral Island Pattaya. This place is still not touristy, so most of them are somehow connected to nature and staying outdoors. Since Thailand is one of the most popular travel destinations in the world, it's pretty hard to find an island like this in this country. I really hope it will stay as unexplored as it is right now.
Anyway, here are the best things to do in Koh Larn island. These activities are available at the main beaches that I am writing about afterwards:
Relaxing On The Beach
Beaches are one of the main reasons why it's worth to visit Koh Larn island. They are simply beautiful and still untouched.
Sadly, while the beaches are taken care of, the other part of the island may be covered with rubbish. You may spot that while driving around. I will write more about the best beaches in Koh Larn later on in this article.
Jumping On A Banana Boat
It's a really fun way of spending the time on Ko Larn island! This long, rubber boat can take up to 10 people for a fun ride on the sea. It's good for those who can swim, as it's very easy to fall off from the banana. If you do so, you need to climb up again to carry on the ride.
The cost of a banana boat ride is approximately 300 THB ($10) and the tour lasts about 30 minutes.
Taking An Undersea Walk
There are not many places on this planet, where you can take an undersea walk. You can do so in Pattaya! How does it work? You have a special gear that includes helmet which allows you to breathe normally when you are in the water. You are walking on the bottom of the sea and you have an amazing opportunity to watch the sea life. How awesome is that? It's a perfect option for those who can't swim or dive. 
You will be connected with the boat all the time, so don't worry that something bad can happen. In my opinion, Sea Walking Pattaya is one of the best Coral Island Pattaya activities.
The cost of the undersea walk is about 1,200 THB per person ($40).
Renting A Jet Ski
If you are traveling to Koh Larn as a couple or solo, you will have great fun riding a jet ski. It's pretty easy to use, so you will be just fine even if you've never done it before. The price for 30 minutes is about 400 THB ($13). 
As in any other vehicle rented in Asia, be sure to take photos first. It's the only way to avoid scams and paying extra for damages you haven't done.
Parasailing
If you are too scared to try parachuting, parasailing may be a good alternative for you. You will be flying behind the speed boat for a short period of time but you will probably remember this moment forever! It's quite extraordinary to be up in the sky and fly!
The cost of parasailing is surprisingly low, you will need to spend about 300 THB ($10) to try this unique water sport. 
TIP: This activity is available in the morning and in the early afternoon only.
Fishing
Now, that's something pretty unique. You don't even need to have any experience to try fishing on Koh Larn island! If you join a tour, you will get all the gear needed, and you will be taught the basics.
The packet includes lunch, snorkeling, transportation from Pattaya and back, all of these for less than $60, so it's a pretty good deal. More info here.
Snorkeling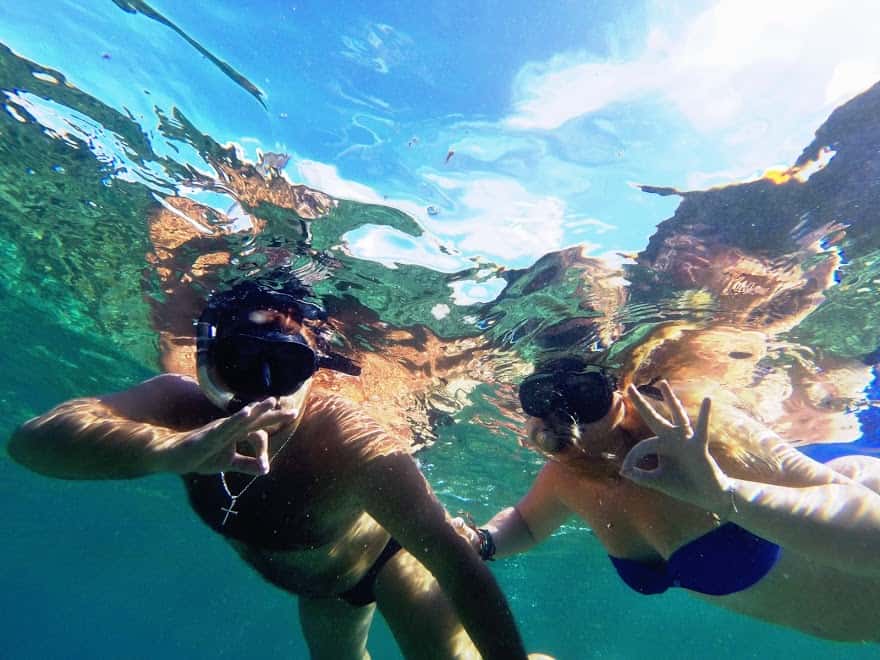 If you want to try Koh Larn snorkeling, the best place to go is Nual Beach. It's located on the opposite side of the island from the pier.
It's often called the Koh Larn monkey beach, as you can find monkeys there. They are not as friendly as it may seem, so you better keep your belongings close and don't feed them.
Diving
Ko Larn island is a place loved by divers visiting Thailand. Why? The coral reef and the sealife is pretty amazing there (the name says it all- it the coral island)!
If you decide to try scuba diving in Coral Island Pattaya, you will have a great chance to spot the sea turtles as many of them live in this area.
Going Up To The Big Buddha Viewpoint
If you want to see one of the best views in Koh Larn, head to the Pratumnak Hill. It's where the Big Buddha Viewpoint is located. Easy to guess, it was named after the huge statue of Buddha that you can see there.
The viewpoint is also called Kuan Yin. You don't have to walk there, it is accessible either by motorbike or a taxi.
How To Get Around Ko Larn Pattaya?
Even though the island is small, you can't really walk from one side to another. You will need a vehicle to get around. Here are your options:
Traveling By Songthaew
Songthaews are bus-trucks. They are popular all around Thailand. On Ko Larn island they come in blue color, so it's very easy to spot them. You will see them right after you leave the Koh Larn pier.
The songthaew can take you anywhere you want on the island. The price depends on the distance you will overcome but it will always be less than 400 THB ($13). You will usually have to wait until the truck gets full.
Songthaews is the best way to get around Koh Larn for families traveling with kids or those who don't feel comfortable riding a motorbike.
Renting A Motorbike
It's the cheapest and the most popular choice. The basic motorbike costs about 300 THB ($10) for a day.
After leaving the ferry, you will be 'attacked' by sellers offering their motorbikes to rent.
DON'T RENT FROM THEM. They would ask you to give them your passport saying that you will get it back once you return the motorbike. It's very risky because there's a possibility that you may not find these guys afterward.
Rent a motorbike from the rental company. They would probably ask for your passport as well but at least you know where you can find it. I left my passport at one rental office and I had no problems with taking it back.
Be sure to take photos of the motorbike! You will avoid being scammed.
Motorbike Taxi
If you don't want to ride a motorbike by yourself, you can hire a motorbike taxi. Even though it may seem that this option is for solo travelers only, most of the taxi drivers will be comfortable taking 2 people on their motorbike. Again, the fare depends on the place you want to go, it's all negotiable.
What Is The Best Beach In Koh Larn?
It's really hard to answer this question. The entire island of Koh Larn is beautiful, so you won't be disappointed, no matter where you go. Coral Island may get crowded sometimes. The rule is simple- the further from the pier, the more peaceful it should be. 
The main beaches of Koh Larn have toilets, showers, restaurants, and sunbeds available to rent.
Tawaen Beach Koh Larn
It's the most popular Koh Larn beach, located close to the main pier. You can get there directly by ferry from Pattaya (more info earlier in this post).
Tawaen Beach Pattaya is beautiful but it may also get really crowded sometimes, especially during the weekend when the people from Bangkok visit Koh Larn to relax.
Koh Larn Tien Beach
This Koh Larn beach is our favorite. It's picturesque and quieter than Tawaen. One of the reasons why it's not that popular is because you need to take a short walk through the wooden footbridge to get there. You can't drive directly to Tien Beach Koh Larn.
Koh Larn Monkey Beach
As I've already mentioned before, the Monkey Beach (also known as Nual Beach Koh Larn) is one of the best spots for snorkeling in Pattaya and around.
Even if you can't swim, you can spend a day there sunbathing, watching the sea, or playing with the monkeys. Be careful though! They may bite or steal your belongings, monkeys are not as cute as they seem.
Samae Beach Koh Larn
This beach is located quite far from the pier but still, it's visited by many tourists. One of the reasons why is that Samae is really long. There's a lot of space there so you can have some privacy even if there are other people with you there.
Tayaiy Beach Koh Larn
It's one of these beaches near Pattaya that are still not undiscovered. Tayaiy is the smallest of all the six main Koh Larn beaches. If you are looking for a peaceful spot, that's your place to go.
Tong Lang Beach Ko Larn 
Even though it's located quite close to Naban Pier, it's not easy to get to this Koh Larn beach Pattaya. You need to take a hike down to get there. Is it worth it? Maybe. You will have privacy for sure but the views are pretty similar to the other Koh Larn beaches.
Best Koh Larn Hotels And Places To Stay
Even though most tourists visit Koh Larn as a Pattaya day tour destination, it's worth to stay there longer! In fact, we regret that we've booked our hotel in Pattaya, not in Koh Larn. It would be much better on the island than in the noisy Pattaya.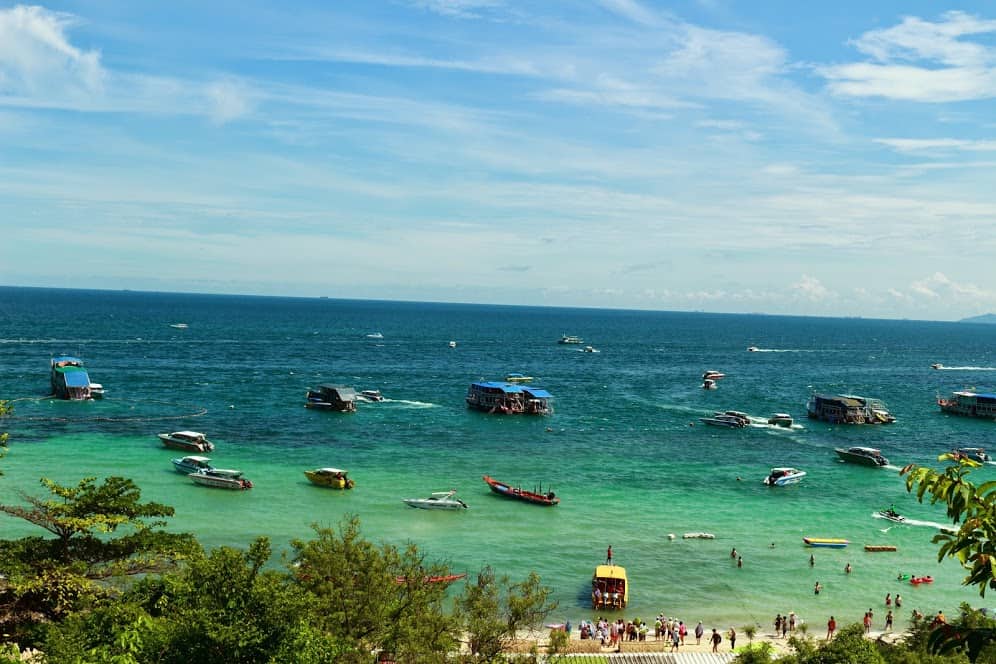 Anyway, here are some of the best Ko Lan hotels:
Xanadu Beach Resort
It's one of the best hotels in Coral Island Pattaya. The resort has a private beach that is a part of Samae Beach. It's also one of the most Instagrammable places on the island, as all the buildings in the resorts are painted in vibrant colors.
Xanadu's rooms are air-conditioned, there is a restaurant in a hotel, so you can be sure you will have all you need. The prices start from $50 / night. See this hotel on Booking.com.
Lareena Resort Koh Larn Pattaya
It's conveniently located right next to the pier in Koh Lanta, so it's a perfect gateway for the island. You can leave your luggage in the resort, rent a motorbike, and drive straight to the beach. There is a 7-11 shop nearby.
The rooms are spacious and air-conditioned. It's a great place to stay for everyone, even for budget travelers. The prices at Lareena Resort start from $39 / night. More info about the hotel here.
Preawwaan Ko Laan
It's one of the cheapest Ko Larn hotels. Preawwaan is located within 10 minutes walking from the pier. All the rooms are air-conditioned, and there is a nice beach nearby. The prices at Preawwaan start from $28 / night. Book your stay at this hotel here.
Search for more Koh Larn island hotels below:
Pin For Later:
Did you enjoy reading this Coral Island Pattaya Travel Guide? Let us know in the comments below!