The easiest potato salad recipe ever! Ranch Potato Salad is loaded with tender red potatoes, sharp Cheddar cheese, crispy bacon, and fresh green onions. This salad has a quick two-ingredient ranch and sour cream dressing.
This fun twist on a classic potato salad will be a hit anywhere it's served. And there is nothing like this salad served alongside this favorite burger recipe!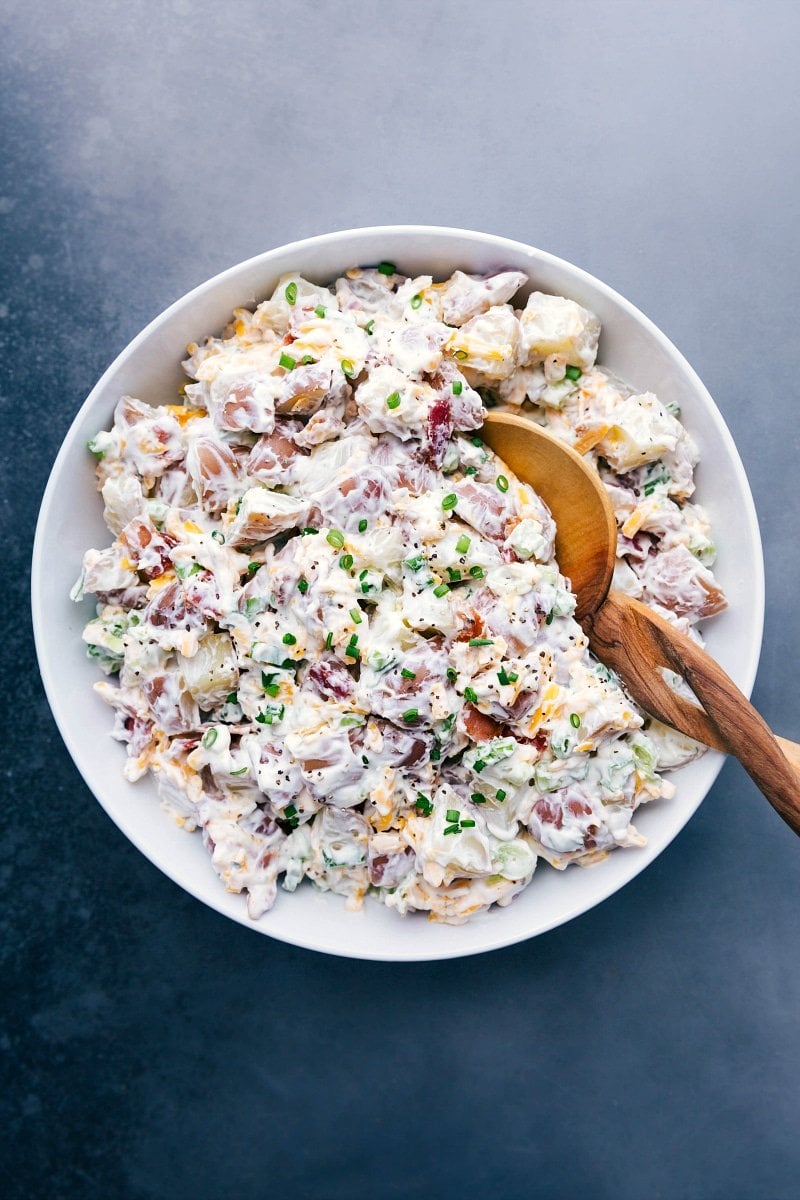 Ranch Potato Salad
Ranch Potato Salad was one of my dad's signature summer dishes and, to this day, we still make it just about every summer. It's a fun flavor variation on a typical potato salad, reminiscent of a baked potato loaded with lots of sour cream and cheese. The ranch seasoning completely takes the flavor to the next level. This salad is creamy, savory, salty, and cheesy. We're totally obsessed with it and I hope you love it too!
Let's talk about boiling the potatoes
The potatoes are covered in cold water and then the water is brought to boiling point. At this point, we salt the water and then actually reduce the heat to low so that the water is just barely simmering. We don't cover the pot (covering changes the environment in the pot and can cause mushy potatoes).
Potatoes will cook in the same amount of time whether simmering or boiling, but simmering prevents the spuds from bouncing around– which helps them keep from becoming mushy. Nothing ruins potato salad like mushy or water-logged potatoes!
A few potato boiling tips
Salt the water. Once the water comes to a boil, generously salt the water. This will flavor the potatoes, which in turn will make the salad that much more delicious. If the potato salad tastes flat or bland, the potatoes were probably under-seasoned. My rule of thumb: add 1 teaspoon salt to every 4 cups of water.
Start the potatoes in cold water. When boiling potatoes, its important they start in cold water because this allows the potatoes to cook evenly (otherwise the outsides will cook quicker than the insides!)
Check the potatoes often. If the potatoes cook too long in the water, they'll end up mushy or water-logged. Check them often for tenderness; as soon as you can pierce the potatoes with a fork, they're ready.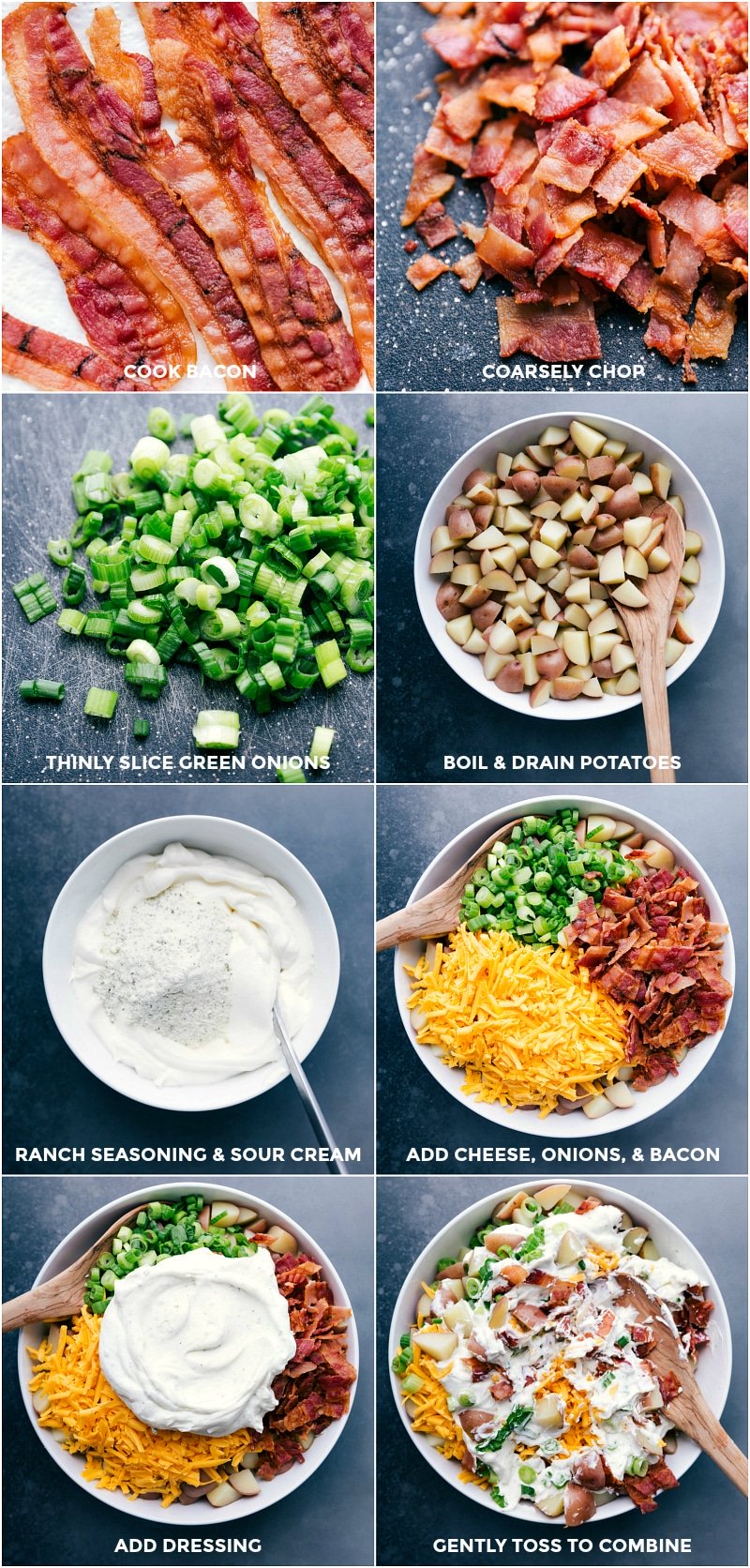 Ranch Potato Salad notes
I usually leave the skins on the potatoes. It adds color and a bit of texture. Plus, it's not worth the trouble to peel them; with thin potato skins, there isn't much of a difference.
Make in advance. While Ranch Potato Salad isn't a major time drain, it may take longer than you think. The potatoes take a good amount of time to prepare, cook, and cool. After the rest of the salad is put together, it also needs to chill for a bit.  As the salad chills, the flavors intensify and meld; everything tastes better cold instead of at room temperature, so don't rush the chilling times.
Make sure to thoroughly drain the potatoes. Thoroughly drain the potatoes after simmering. I highly recommend giving them enough time to drain and dry before using them in the salad–otherwise you may end up with a watery, less-flavorful Ranch Potato Salad.
Use a good ranch seasoning mix. While you can certainly make your own, the idea of this salad is quick and easy! We like Hidden Valley Ranch® seasoning mix best (not sponsored) and have found other brands to lack flavor.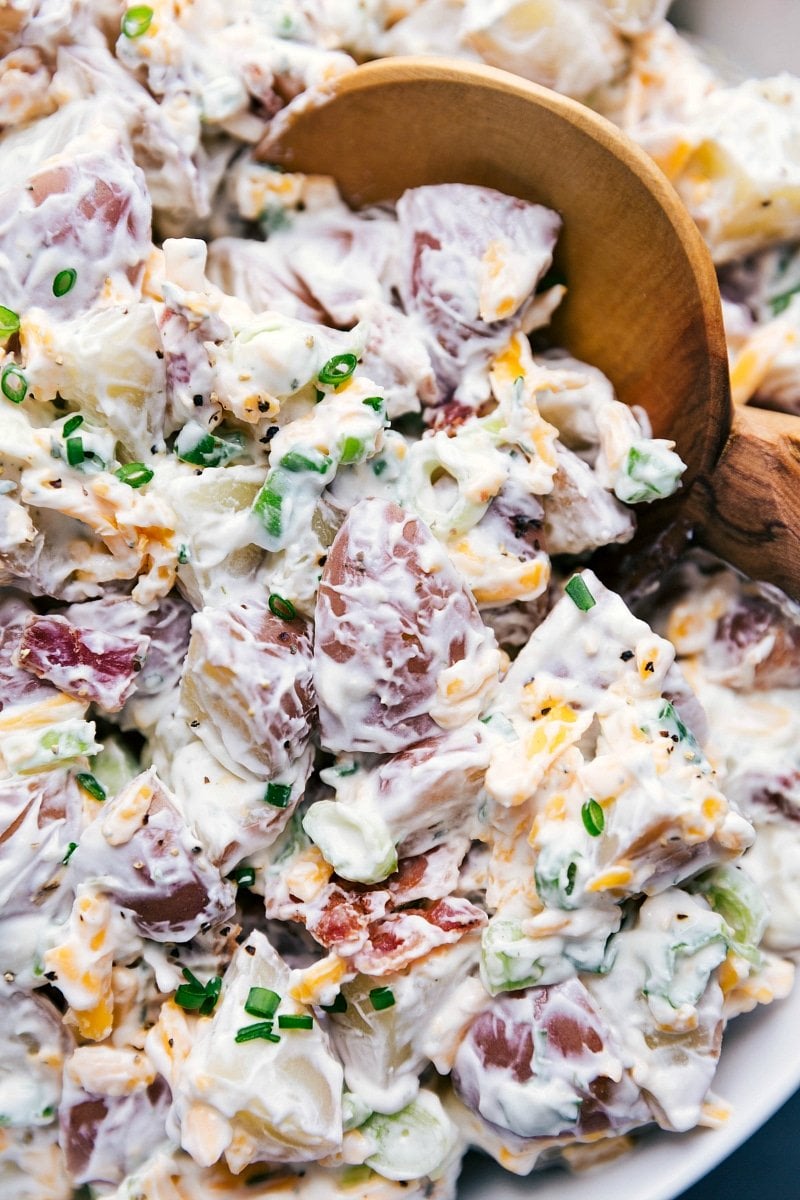 Make ahead and storage suggestions
Make Ranch Potato Salad at least an hour before serving so it can be thoroughly chilled. It can be made up to 4 hours in advance and refrigerated in an airtight container.
Leftover potato salad will stay fresh (properly stored) for 3-4 days. If you are making it in advance, I recommend adding the bacon right before serving if you'd like it to remain crispy.
More potluck favorites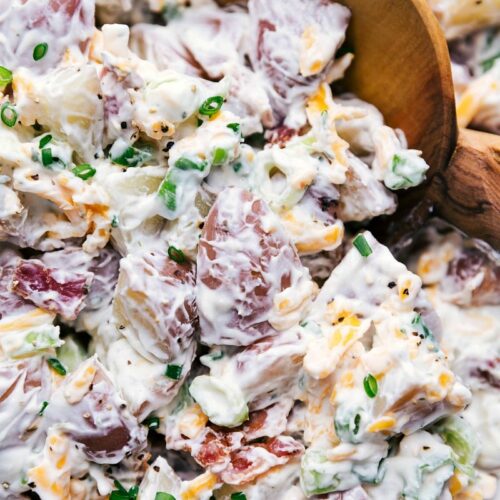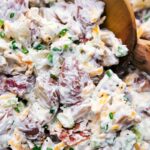 Ranch Potato Salad
The easiest potato salad recipe ever! Ranch Potato Salad is loaded with tender red potatoes, sharp Cheddar cheese, crispy bacon, and fresh green onions. This salad has a quick two-ingredient ranch and sour cream dressing.
Course: Salad, Side Dish
Cuisine: American
Keyword: Ranch Potato Salad
Servings: 6 -8 sides
Calories: 300 kcal
Ingredients
2

pounds (915g)

red potatoes,

cut into 1-inch pieces

2

cups (453g)

sour cream

(regular or low fat)

1

(1 ounce (28g) package)

ranch dressing mix,

dry

Freshly cracked pepper,

to taste

1 and 1/2

cups (145g)

freshly grated sharp cheddar cheese

14-16

slices

bacon

1

cup (55g)

thinly sliced green onions
Instructions
POTATOES: Leave the peel on the red potatoes and cut them into 1-inch cubes. Put the potato cubes in a large pot and cover with about 1 inch of water. Bring to a boil over high heat and add salt. I add 1 teaspoon per every 4 cups of water. Once boiling, reduce the heat to medium low (at a bare simmer), and cook uncovered for 8-15 minutes or until potatoes are tender (easily pierced with a fork). Check often to avoid over-cooking the potatoes which will cause a mushy salad.

POTATOES CONT.: Drain the potatoes and run under cold water. Let stand to dry completely before adding to the salad.

DRESSING: Meanwhile, mix the ranch dressing packet with the sour cream. Whisk until smooth.

BACON: Cook the bacon, drain the fat, and coarsely chop.

SALAD ASSEMBLY: Place the completely cooled potatoes in a large bowl. Add in the chopped bacon (See Note 1), shredded Cheddar cheese, and sliced green onions. Pour the dressing over everything and gently toss to combined. Add cracked pepper to taste.

CHILL: Covered, in the fridge, for at least 30 minutes (preferably 1 hour) before serving.
Recipe Notes
Note 1: If you'd like the bacon to stay crispy (instead of a softer/chewier texture), add the bacon to top individual servings.