Review of the Highline Mini Ballhead from Colorado Tripod Company
If I've learned anything over my many years making photographs, it's that good things often come in very small packages.
Now, that's not to say that there aren't equally great things which arrive in enormous packages… but you get the idea.
When The Colorado Tripod Company sent me their Highline Mini Ballhead to evaluate I entered into the task with an open mind even though for the most part I tend to approach my choices of tripod support systems with a mindset somewhere between "Will this fit in my backpack?" and "Can I use this to lift my car?"
So, when this little guy arrived… you can understand just how amazed I was at its size… or lack thereof.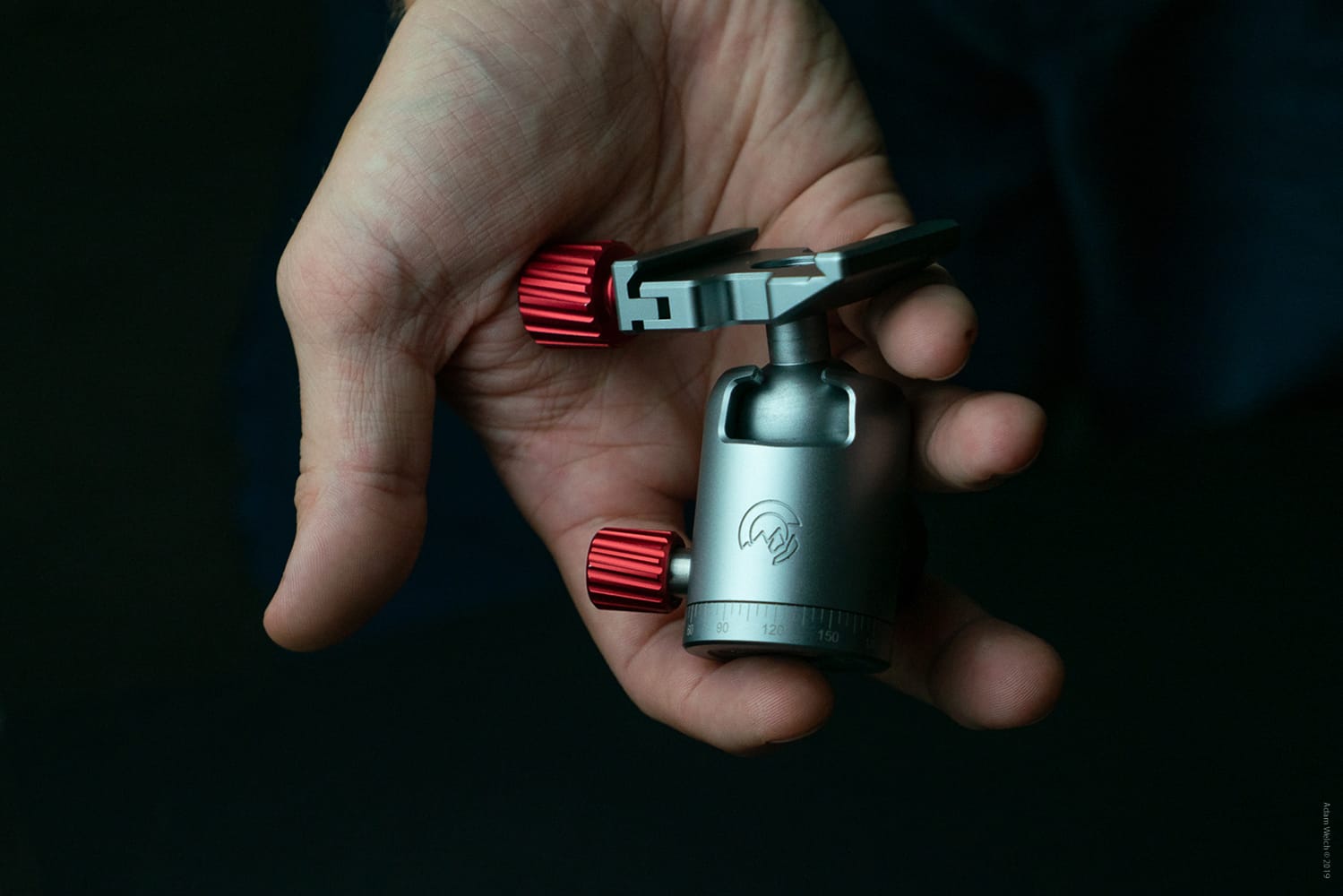 Yes, the Colorado Tripod Company has produced what one might call a "crazy small" ballhead.
Over the months that I've worked with the Highline Mini, I've been impressed with its seriously compact size and weight and its surprising versatility and build quality. For those of you who enjoy the condensed version for your gear reviews, check out this video run-down of the key features of this little ballhead.
However, if you're the type that prefers to see hard, cold information in print… keep reading.
Out of the Box
If you haven't guessed already, the Highline Mini is every bit as small as the name suggests. Adjectives that spring to mind include tiny, wee, minute, and my personal favorite… teensy-weensy.
Here are the official specifications for the Highline mini from the Colorado Tripod Company website:
Material: 100% recycled aluminum
Length from the top of the clamp to the base: 75mm (2.95 in)
Width at base: 37mm (1.46 in)
Weight without base-plate: 222g (7.83 oz)
Support capacity: 9.1kg (20 lbs)
Included in the box was a 40mm Arca base-plate along with mounting screw, a ¼ to ⅜ inch mount adapter, and the ballhead itself.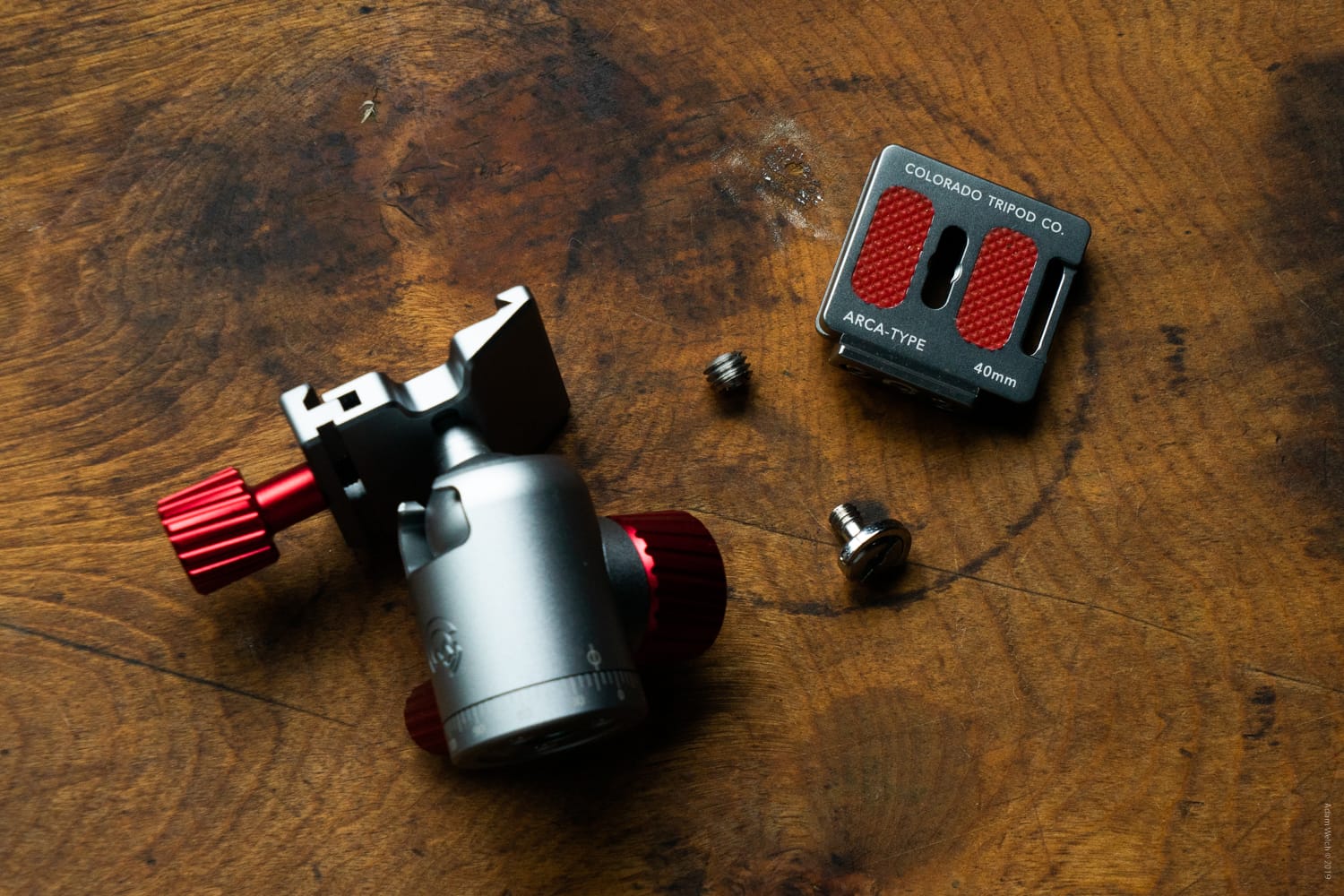 Having tested two of the Colorado Tripod Company's other full-sized ballheads (1st and 2nd gen large Highline), I can happily report that the Highline Mini follows in the high-quality footsteps of it's larger cousins.
This ballhead feels exceptionally well made and appears to be well machined. It is free of burrs and grind marks with all the engravings well done and highly visible. Speaking of which, it's worth noting the degree markings at the base are laser etched, not painted.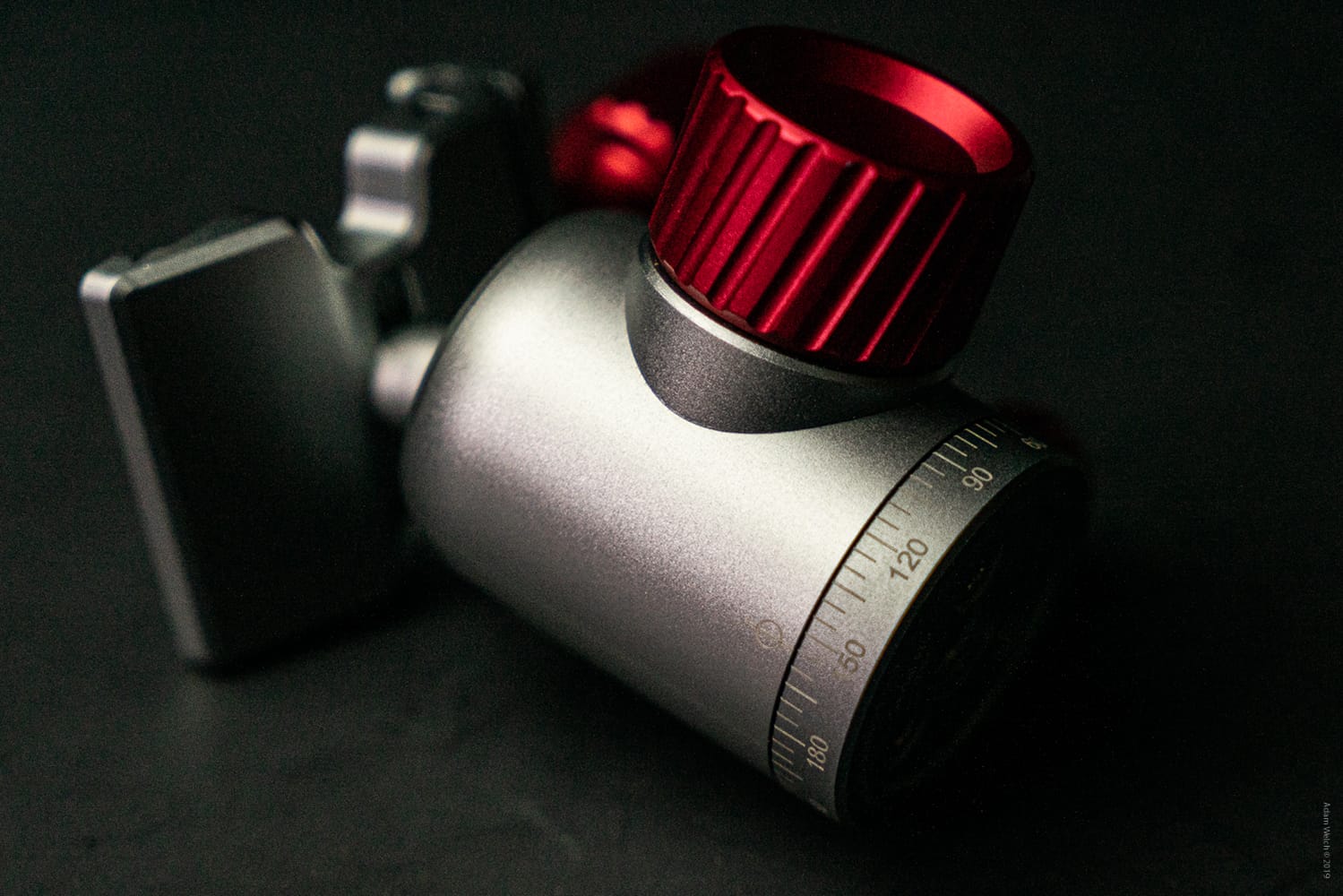 There are two knobs present for panning and positioning with both of these feeling comfortable and just big enough to be easily adjusted with even a gloved hand. The clamp itself features an equally grippy tightening knob, which also incorporates a super-bright bubble level.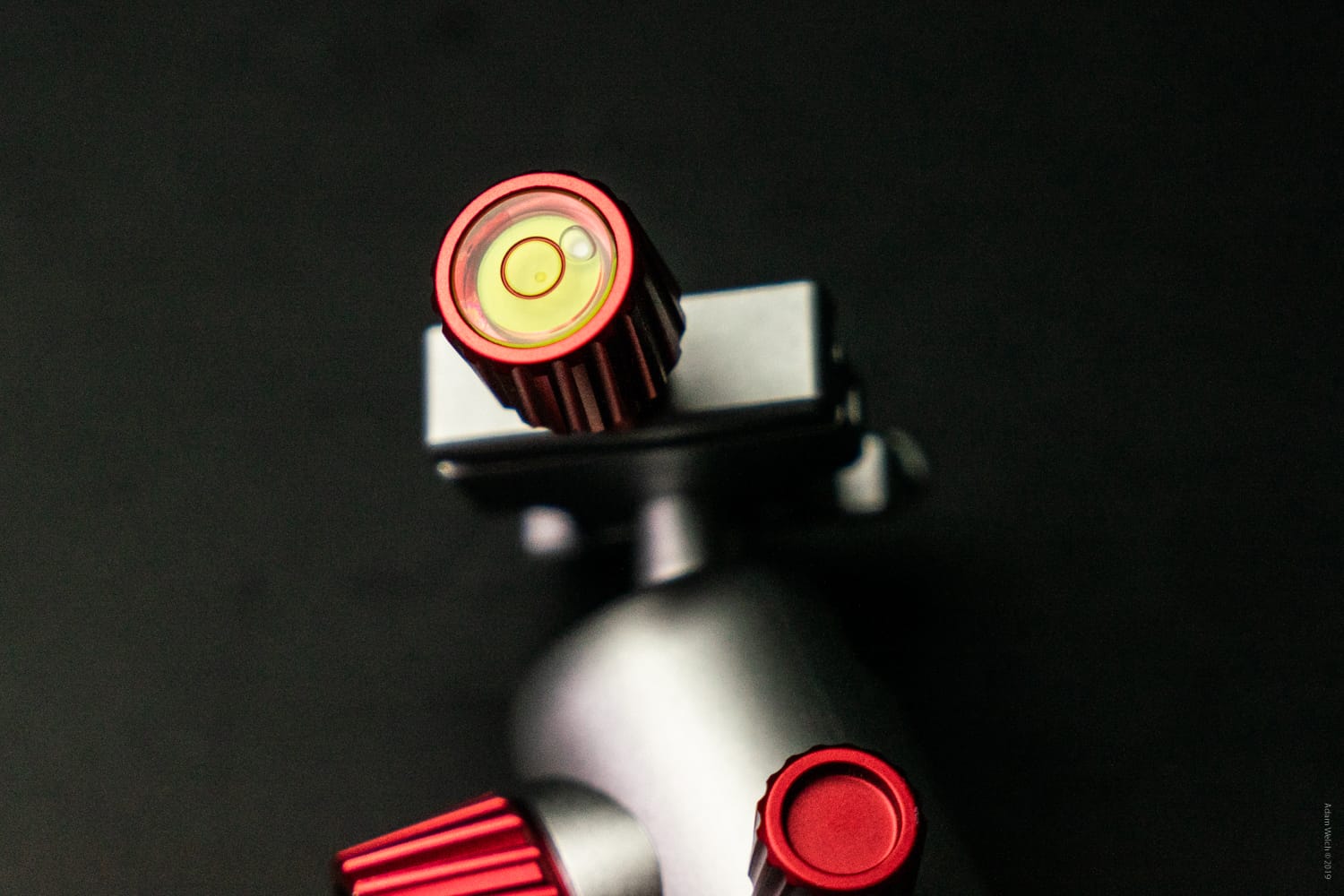 My particular model features a red and silver color scheme for both the ballhead and base-plate, but there are also four other colors available: green, silver, blue, and black.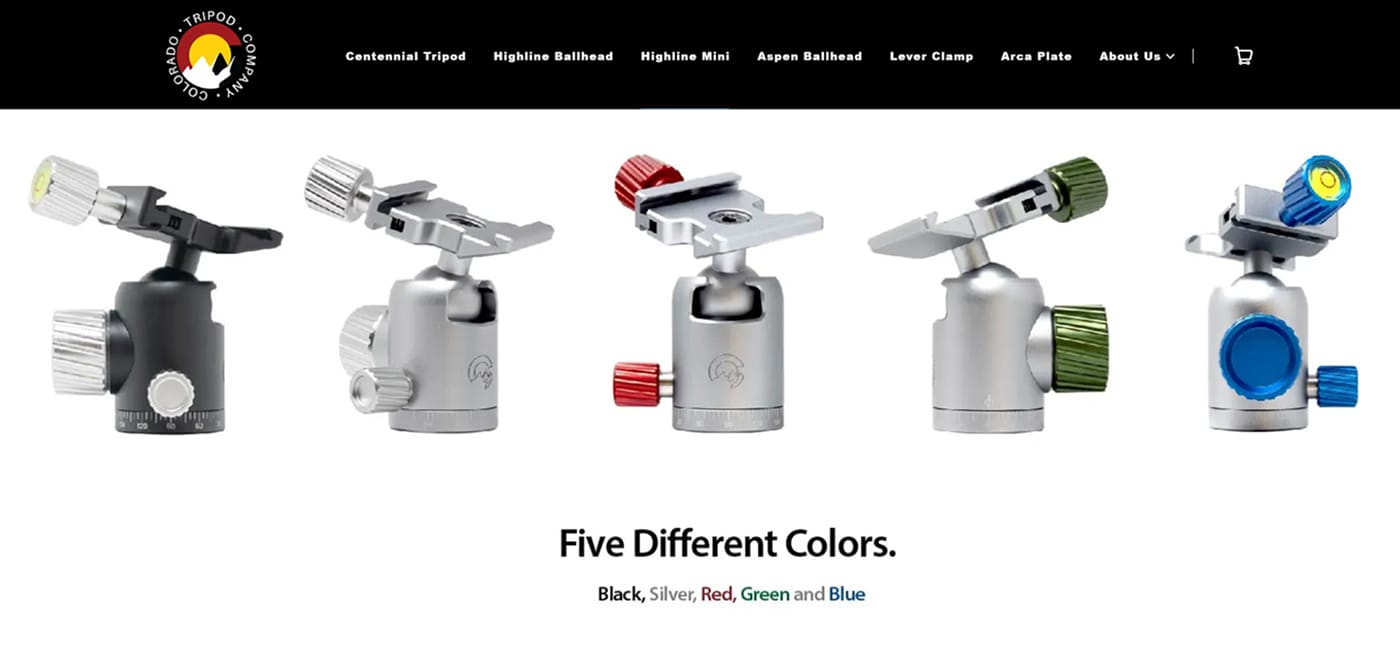 Highline Mini Ballhead Performance
In short, the Highline Mini performed exactly as it should. The ballhead clamp mechanism, although it lacks the secondary tension lock present on the larger models, locks the head down exceptionally securely. I doubt there will be any drift issues when used within the limits of its 20lbs support capacity.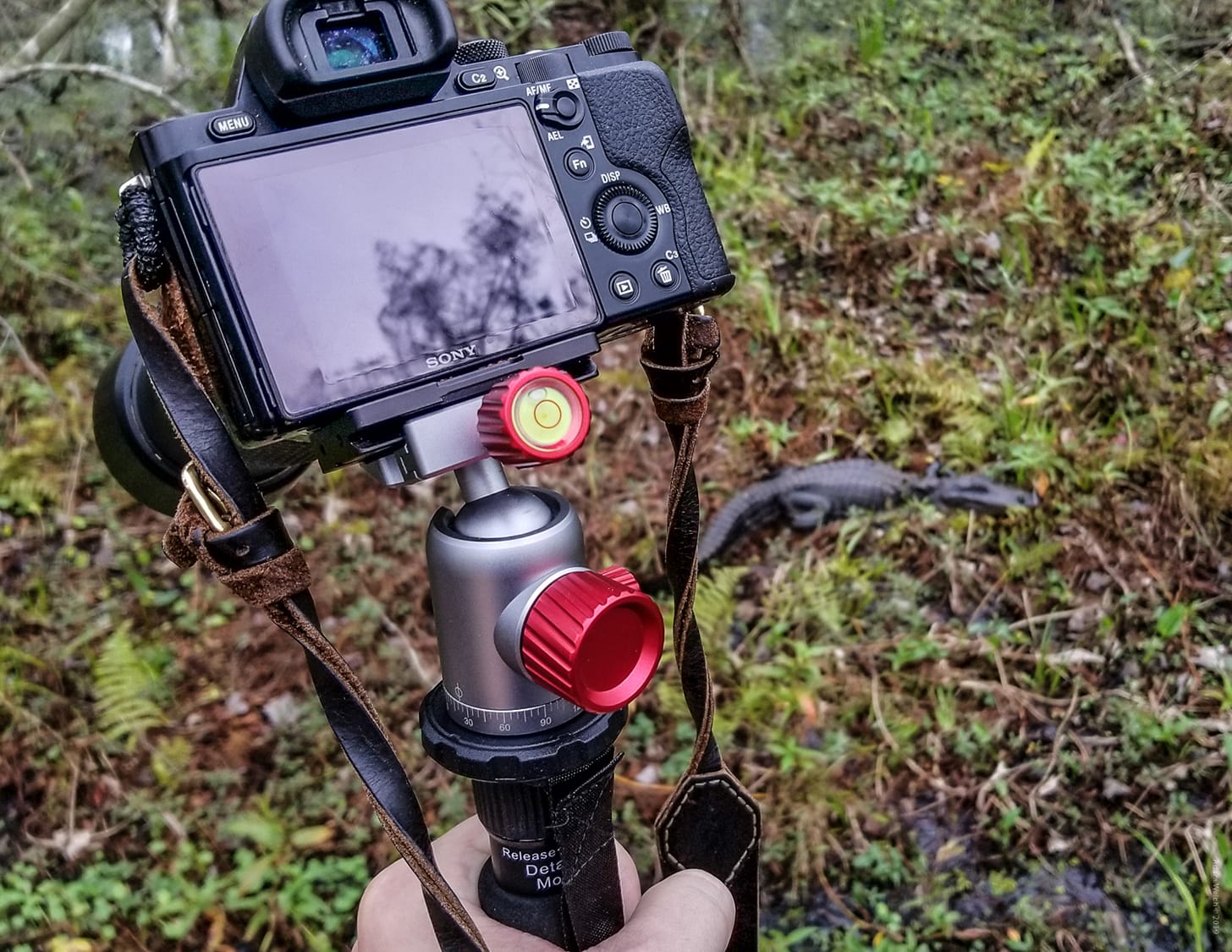 I found the pan base to be particularly impressive in its smoothness. There seemed to be very little difference in dampening throughout its range. It offers virtually equal resistance when fully unlocked as it does when only slightly released from it's fully locked position.
The ballhead movement is smooth and only slightly audible when manipulated. I'm quite happy to see that the same enlarged window has been incorporated into this ballhead, which offers considerably more range when shooting in the vertical orientation.
Practical Considerations
The Highline Mini is for relatively smaller camera setups such as mirrorless cameras and smaller DSLR and SLR bodies. However, it had no trouble handling larger cameras in my tests, including my moderately beefy medium format Bronica GS-1.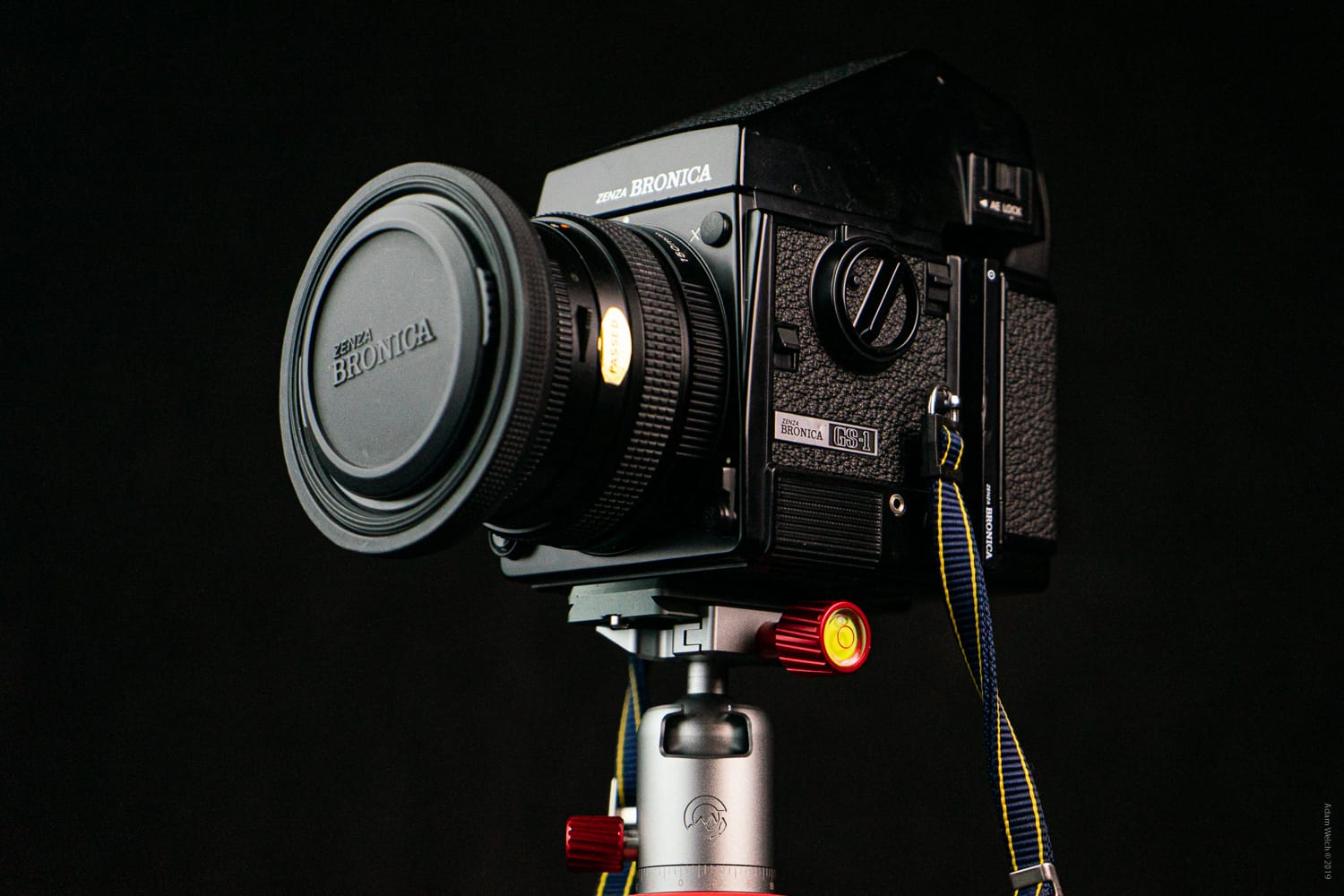 That being said, keep in mind that this ballhead is intended to keep weight down and allow for greater portability. This means that using it with larger camera setups or with heavier tripods is counterproductive.
For these situations, heavier cameras should generally be paired with congruently hefty support systems. Ballheads like the Highline Mini are excellent for uses with super-compact tripods, making it an excellent choice to pair with your favorite travel or vlogging setup.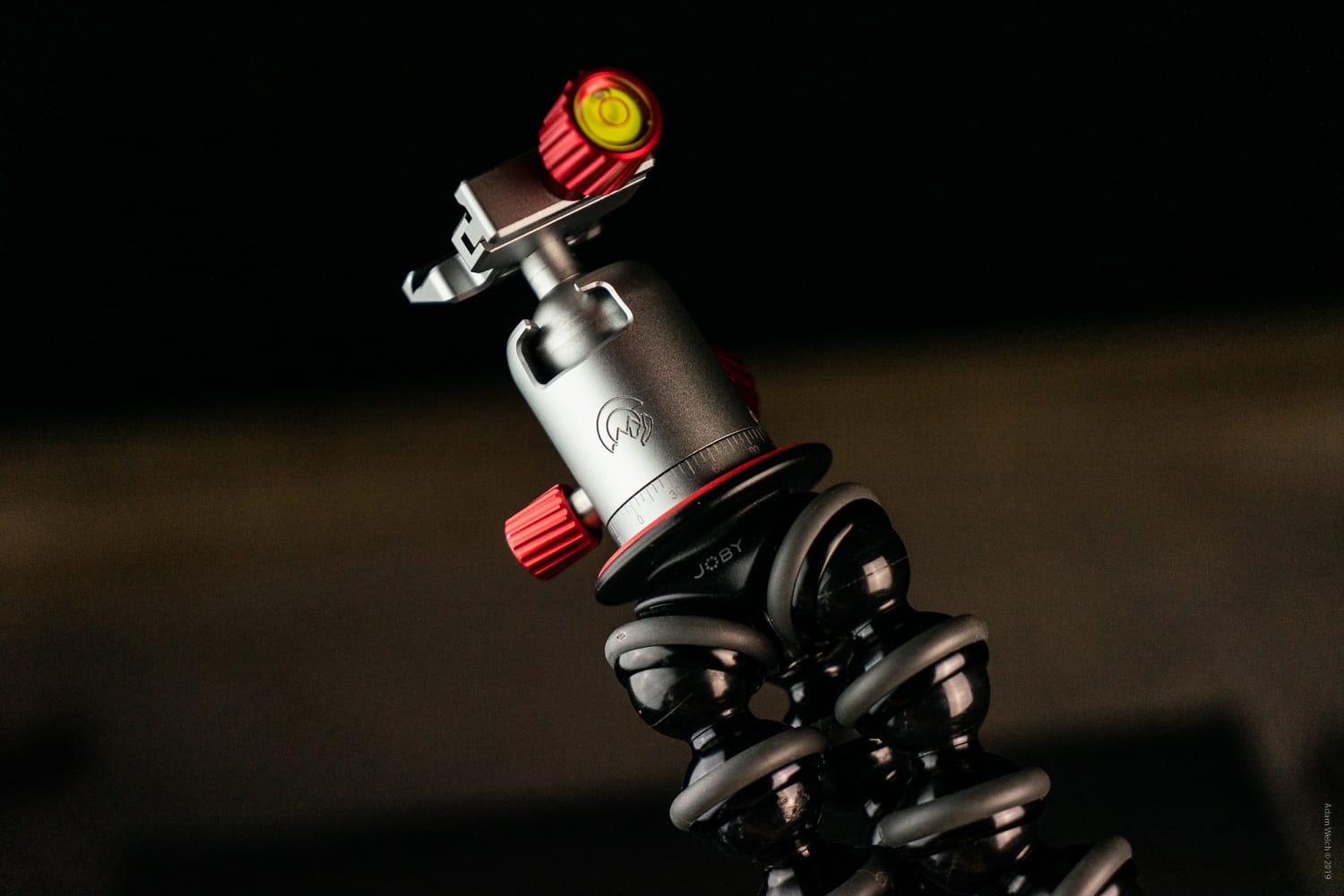 Summing Up
Put simply, I don't think I could be more impressed with the performance of the Highline Mini ballhead from the Colorado Tripod Company. It functions beautifully in its intended purpose as a small-form camera support system. It is solidly made and offers a wide range of color options. Not only that, but it comes backed with the Colorado Tripod Company's ten-year warranty and their 24/7 customer support.
At the time of this review, the Highline Mini sells for around $20 USD, making it an impressive option for those who are in need of a small, lightweight yet incredibly sturdy option for travel or backpacking.