INTERVIEW – Gbadebo: How I Became Big Coach In Thailand; Coaching Nigeria My Dream Too
Adebayo Gbadebo, 46, is the current coach of Suphanburi FC, a Premier League club in Thailand. A former Flying Eagles defender under James Peters (1991-1992), Gbadebo went on to play for the Nigeria's U-23 Olympic team in the early stages of the buildup to the 1996 Olympic Games qualifiers. He says Stationery Stores was his childhood club. After three seasons with the Flaming Flamingoes (199-1993), Gbadebo began his career abroad with a move to Lebanon where he penned a deal with Al Bourrj (1994-98), then to BEC Tero Sasana of Thailand (1998-99). After an illustrious career in Thailand and Indonesia, the former Nigeria junior international called time on his career and took to coaching in 2007 after obtaining his Pro License Coaching badge, starting with Bangkok Christian International SC (2007-2009).
In this exclusive interview with Complete Sports' SAB OSUJI, Gbadebo also reveals interesting details about his world of football – his achievements and new ambition, and the reasons he rates the late Stephen Keshi as the best African defender ever. He also reveals why he, and his Thai wife, Monrudee, decided to settle in with their kids in that Asian country.
Excerpts…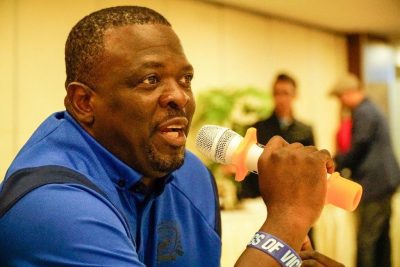 Complete Sports: Thailand doesn't really rank as a top football-playing nation. What's your take on this and how are you faring coaching in such country's football league?
Gbadebo: That was exactly my perception when a friend of mine first told me about Thailand. That was in 1994, to be precise. At that time, I was still playing professional football in Lebanon. So, I can say I really understand the thinking of many because in fact, Thailand is known more about tourism and agriculture, especially about rice. No one really thinks about Thailand in football. If you want to talk about football, countries like Brazil, Argentina, Nigeria and other countries from Europe and Africa. Like I said earlier, that was also my own thinking but everything changed the moment I watched the 1995 Asian Cup final in which Thai club, Al Arabi engaged a team from Saudi Arabia. , Al Arabi won the match and became the champions of Asia. It was nice seeing a Thai team playing really nice football. So since then, my perception of Thai football changed.
Also Read – EPL: Iheanacho Scores Again For Leicester; Ighalo Features In Man United's Win Vs Bournemouth
That's really interesting. But how are you faring coaching in a country like Thailand?
Gbadebo: Club football in Thailand is really a big thing. The reason is that most of the clubs invest so much in the clubs, putting in a lot of resources. And for you to be at that top level as a coach, you really must have to earn it. Reason is that there are coaches from all over the World who want to be involved in coaching in Thailand. So you have to be on top of your game, you must possess a at l least a Pro Licence certificate in coaching which is not for an opportunistic coach especially if and when you are a foreigner in which case it is mandatory for you to have the Pro Licence coaching badge.
We understand you are a Sociology Graduate of University of Ibadan. How did you manage to cope with playing football and studying? What is your advice to footballers who don't seem to see education as important?.
I already had football-playing background while in Secondary School. At that time too, I was playing for two clubs, one at Agege [Lagos] in the Agege Football Association League or tournament. The name of the club was Caterpillar FC. I was also playing for another club in Badagry. We trained three times in Agege and two times with the Badagry team for the Badagry League.
So, it was a part of me even before I entered the University. For me, football is a passion and I love to play it. Also, I came from a family that values education. My dad was very strict about our education. He held much value to it. When I got admission into the University, I received a strong word from him that 'you know what you are there for'. Right from my 100 Level in the University, I started playing for my Hall. The second year, we won a major tournament and since then, I never looked back.
In that first year, I had an offer to travel to Germany to sign for Schalk 04. But my father bluntly refused to the agent's offer. He was bent on ensuring that I finished University education and get my degree. Of course, I had to reason with him and I'm glad that I finished as a graduate of Sociology. For the present day players who don't seem to place priority on education, when you look at the context of this modern days, it's not just about to train. Look at (Lionel) Messi, he did not go to school but he earns the biggest money in the world. Same as [Cristiano] Ronaldo. It is all about how such people were managed from their youth, their training (family upbringing), the system into which the player falls in. If they [players who don't value education] are still in Nigeria where they don't have good structures, its okay, I will advise that the player should go with that. But, if it's in Europe or Asia, I think, he doesn't need to wait because education complements football and football also complements education. But truth is, you can attain education even while playing football.
Do you have plan to take your coaching career away from Thailand, may be, to other bigger or stronger leagues in the World?
Gbadebo: For sure. Actually, when you have licence as a coach, it doesn't restrict you to a particular league, club or country. That is why it is called 'licence' because it empowers you to work anywhere. If you are a doctor, if you are licensed, you can work anywhere, it is not like you restricted, you are not limited but I am a man that takes things in stride, and in accordance with what God have for me. Mine is just to prepare myself and also know that my licence also prepares me for any stage or task that I may find, to do my work much more effectively. and that depends on the conditions and things that surround the reason for my moving to another place. But like I said, you're not restricted to a particular place, and my licence right now is allowed all over the world as a Pro Licence coach and I can coach anywhere.
Also Read: How Chukwueze And Co Can Decide Who Wins Laliga 2019/20
You had a playing career stint at Stationery Stores, what can you say has improved from your time and now in terms of the general standard of the Nigerian league?
I didn't start my career at Stationery Stores. Although Stationery Stores had been my dream team that I looked forward to play for ever since I was a kid. I played for other clubs, like the Nigerian Railways FC – they moved from Ibadan to Lagos to play in the the Pro League 11 that time. I also played with Eagle Cement FC, Port Harcourt also in the Division Two League in 1991-1992.
I played for Stationery Stores in 1993. It was after the 1993 league and CAF Champions League campaign that I traveled to Lebanon in 1994. Talking about the standard, now and then, there is something you can't remove or doubt about the Nigerian game. It is full of talents. I watched about three clips of the domestic league on the Yutube about three years ago. I was impressed seeing great players you cannot imagine are still plying their trades on the home front. But the standard [of facilities] is not what it is supposed to be because I don't see us moving ahead especially seeing the teams playing on artificial grounds. To me as a professional, it is the worst thing that can happen to Nigerian football because there is no field or stadium in Europe where professional or Premier league is being played on artificial pitch. The only places you can see games played on artificial grounds are places with weather good conditions. The artificial pitch is not good for the game, it doesn't allow players to give their best, so for me, the standard of the league is kind of struggling at the moment and I think we can make it better.
You are also a pastor in Thailand. You may have met agents who may have tried to induce you to either fix a match or recruit their choice players. Did you fall into the trap of such agents or escaped?
It's all about your integrity and vision. There are things you tolerate and those you don't. In Thailand, there is foreign quota restrictions. Only three players are accepted into a club from any part of the world. And then about four players from South-East Asian countries. And you are talking about players who earn over $200,000 annually. That is for a low earning team. So when we talk about agents who are everywhere trying to lure players to you, the coach needs to know exactly that he needs to be focused and protect his own integrity as regards what he takes or what will help him achieve result because its not about what you get now that add value to you but what really adds value to you is how many games you won and you need the right players, not people that you need to give you something of benefit to you. Thailand is really highly demanding for the job . The job that we do now, there are so many Pro Licenced coaches that are jobless right now. So you need to realise that it is a highly demanding job and that you don't need to take things for granted, especially to throw away your integrity. You don't do that, and I don't get involved in that. You need to set up a standard. That's the major thing that happen here. That is part of us, especially me.
As a Black Coach, how have you been coping in a football club in Thailand?. Have you ever faced racism at work or elsewhere?
An interesting question, I must say. Way back in 1994 when I started playing professional football in Lebanon, I could say , with due respect to people's thinking over what are happening around the world – people's thinking are not the same. You have to understand that everybody have different ways of thinking. Some maybe thinking right, some may be thinking bad. One thing I learnt a lot is the fact that I don't have to control other people thinking, I don't need to force them but I need to make myself valuable. These, I've been able to learn since I started playing outside the shores of Nigeria, and I discovered that you really need to keep yourself valuable, you need to be among the best and then, these people will not really look at your colour.
You need to make up your mind because you are not in your own country. This is something you must know, that there would be challenging because many people in that country also want to be in the shoe that you are. So it's what you make yourself of it. Yes, it is really challenging. You need to take it as motivation to strive to achieve your goal because success is to make people to keep their mouth shut. When you are making it, they will follow you. It's something that I did even when I was still playing football when I had to play with players that were with their national teams and all of them were from the same country. You need to have something different so that they can see you that you are part of them so they can respect or learn from from you. Then you overlook their little shortcomings that are surrounded by culture which are not accepted by the society. But when they see the glamour in you, they will follow your steps and respect you. It goes a very hard way, but we must learn to bring solution to crisis and not to stay on the crisis. We need to make the best out of everything.
This is something that you cannot change. I'm a Nigerian, I say it, I'm a proud Nigerian and I know my identity that I'm a child of God. Everything that I do, I must represent God. I also come from a country that I must represent. I come from a royal family and I must put all these into consideration rather than getting worried, forcing the people to accept me, but when I go for success in everything that I do, everyone will begin to look for me. This is the thing that we need to understand. I don't see myself according to colour even if anyone envy anything about me – I see myself doing my job to the best of my knowledge.
My players are from several countries of the world, I have players from Brazil, Asia, Japan, Philipines, Thailand and I have (club) management. So people are watching from all over the world, so I have to deal with all these. All of them grew up in different homes with different backgrounds, different morals and culture. But they respect what they see in you and I think, that is the most important thing. When you are able to bring solutions and you are able to put people of different orientations together they gonna respect you. I don't think they see me from the point of colour or pastor.
Why is it difficult for Nigerian coaches to get coaching jobs outside the country?
This has to do more with owners of such clubs, the administrators as regards their ambition, vision and policy as regards to what they want to achieve and how they want their club to play. This will help them look for the right coach that can drive their ambition. If a coach does not match such valuation as regards technical requirements, certainly it will be a huge challenge for such coach to be considered for engagement.
Nigerian players playing outside the country are seen to be good and doing excellently well the major drawback is the quality of the league back home. The quality of the league, I mean Nigerian league, needs to be upgraded tremendously so that many administrators watching the league outside the country would become interested in engaging the coaches that handle such teams that are doing well based on what they see the clubs do right on the pitch, to come over to their country or to their club in order to help develop their own football. But if the Nigerian league continues to remain as it is, uncompetitive as unlike what they (foreign clubs) have, then it's difficult.
Take a look at Brazil: when Corinthians playing against Flamingoes, you see fantastic facilities, wonderful atmosphere and you see the coaches on top of their game, yes, the administrators would be convinced that if they bring such coaches or players, they can do the job, deliver without a shred of doubt. But when you consider this with what we have in our present day football administration among the Nigerian league clubs, I must say a lot need to be stepped up, quite a lot. I believe this is affecting the fortunes of a lot of Nigerian coaches to coach outside of the country.
So if any Nigerian coach wants to be employed outside the country, he needs to step up, possibly start afresh to build himself, starting from the scratch all over again before hitting the top of the pyramid.
The most part of your playing career was in Thailand. And you even started your coaching career also in Thailand. What's the reason for this?
Gbadebo: This is very interesting. When I came to Thailand in 1998, I played with a top team and I was having really good time. I was among the best back then. I felt they loved me, they appreciated what I was doing. I wasn't the kind of player always going on trials with clubs. I believe when you are good, clubs will always come looking for you. I was like winning the Thai FA Cup regularly and we were always representing the country in the (Asian) Champions League. I played against several clubs from other parts of Asia, China, Japan and Indonesia. I remember being paid a huge amount of money for a transfer to a club in Indonesia before I came back to Thailand.
But the major reason I played the major part of my career in Thailand was a decision I made after I got married my wife, Monrudee, a Thai lady, two years after I came to Thailand. I wanted to settle down and focus on my family as well, I needed to give my children a base and background. So we decided to live in Thailand to give our children a good background, good education that will make them stand on their feet and not lose identity of where they come from. Besides, I also have this satisfaction with the culture of the Thai people. The people really love themselves. I've started learning a lot of things that will help in life. Honestly, I see Thailand as my second home and also where my wife and children are also comfortable with the culture, the language and the people.
You appear to have acquired huge popularity and acceptance in Thailand. This is amazing. In view of what you have outlined as reasons you decided to settle down in Thailand, are you looking forward to coach any of the Thailand national teams in future?
That's an interesting one. I've been living in Thailand in for 22 years. I've been coaching here in Thailand for quite a long time now too, since 2004. It takes somebody who knows the language and culture of the people in order to be able to relate with the players to achieve result that would help me get to where God wants me to get to be. It takes the grace of God and for me, it will will be an honour, a great one for that matter, for me to coach Thailand national team in future. But I'm not obsessed about that, I would want to everything on merit.
Like I said earlier, when you do the job well, get good result, show what you have, then, the value that comes with it, will make you get what you deserve. My philosophy is always to be excellent, to give my best and to do the best at all times. So, if it is the Thailand national team job that comes my way in future and I see it as the best along with my technical team and it comes with the right condition, why not? Remember that Thailand is my second home, it is a good place that has added a whole lot to me, which I believe also that they have a good structure in place and as long as they have the desire and drive for the job to be done, I won't have any objection.
You were a central defender during your playing days. Who do you think is Africa's Best defender in the past 30 years?
No doubt it is late Stephen Keshi. I loved Stephen Keshi's style of play and this served as motivation or inspiration for me in all the clubs that I played for. I loved his commanding way of leadership on the field, I love his out-of-defense type of play, his royal gesture because it keeps the team together, moving. I'm a big fan of late Stephen Keshi. Without looking back, I can tell you he was the best player that has come out of Africa. However, when you talk about strikers, you talk about late Rashidi Yekini, Daniel Amokachi who did quite a hard, good job for Nigeria.
It's quite an incredible CV you have accumulated for yourself over there in Thailand, Coach Gbadebo. Certainly, Nigerians would love seeing you handle any of their national teams. Would coach Gbadebo be interested in coaching Nigerian team – at national team or club level?
Gbadebo: First of all, I would like to say thank you for the big compliment. I would give glory to God for the achievements He has given me here in Thailand where I am presently. Like you said Nigerians would like to see me handle any of the national teams. And I say, I'm a patriotic Nigerian to the core and I would love to see this wonderful day with a great, great joy. I cannot reemphasize how that day would be for me if God gives me the grace to achieve this feat because I know that Nigeria is full of great talents – players who are winners, who can help you to achieve great feats.
I know we have the players in every category, from the U17 through to the senior national team, Super Eagles. Coaching the national team is a dream that I pray to come true soon because it will be an opportunity for me to bring what (experience) I have acquired over the years working abroad, to my own country, Nigeria, to make them the best and that should be excellent. Like I responded to the question about coaching Thailand, that response also applies to this [Nigeria]. I also pray to get it purely on merit. Because I know what it means to get things on merit. Yes, the interest is there.
Thank you for finding time to speak with us
Gbadebo: I really appreciate too.
Copyright © 2020 Completesports.com All rights reserved. The information contained in Completesports.com may not be published, broadcast, rewritten, or redistributed without the prior written authority of Completesports.com.