LIVE: Panthers launch 'full-blooded assault'
Rugby league legend Wally Lewis says the Brisbane playing group is split with overpaid, underperforming stars in the firing line.
The Broncos are 0-5 since the COVID-19 hiatus, and on the wrong end of a combined 170-42 scoreline in that period, that has seen the future of coach Anthony Seibold questioned.
Brisbane was 15th on the ladder coming into this round, with the worst points differential of any team in the competition.
"The spirit between the players suggesting that a number of them aren't real happy with the payments being given to some of the players, and they're not really performing all that well," Lewis told The Continuous Call Team on Nine Radio.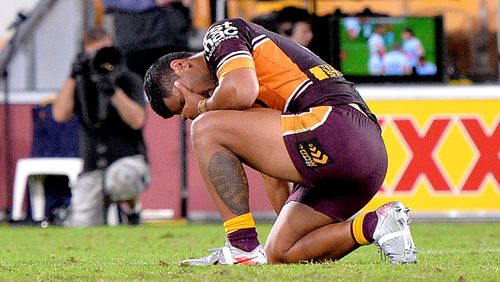 "Anthony Milford's copped an absolute hammering from the general public and the media alike.
"He's a million dollar man and they're just saying he's not getting too much out of it.
"The one issue that they can't deny is there just seems to be a pretty bad mood in the club.
"That's a real indication that something needs to be changed.
"The finger-pointing has included the coach as well, I think that's been pretty tough on him.