LIVE: 'He's done nothing': Gus unloads on Ponga
Despite the Knights holding a 14-6 lead over Manly at Brookvale Oval on Sunday afternoon, Phil Gould has been left livid with Newcastle prodigy Kalyn Ponga's performance.
The Knights were fortunate to head into the sheds with an eight-point buffer after Kurt Mann bagged last-ditch try in the dying seconds of the first-half.
They had only crossed over for their first try earlier in the match when Manly skipper Daly Cherry-Evans was sent to the bin for a professional foul.
During the break, Gould was less than impressed with Newcastle's offence and took particular aim at Ponga who copped a massive spray from the rugby league great.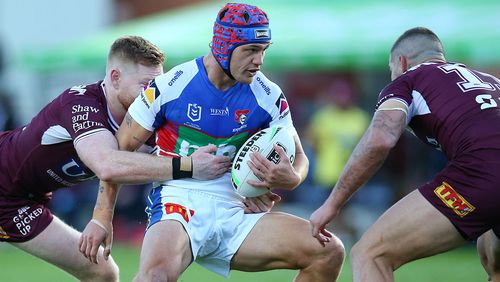 "I think it's been inept (Newcastle's attack)," Gould said.
"Other than Mitchell Pearce's kicking game which kept building pressure, I don't think the combination of he and Ponga have really got going at all today.
"Ponga just seems to be very heavy-legged and doesn't get himself into space…He's done nothing, Ponga has done nothing.
"He's sort of catching it and then thinking 'what am I going to do'.
"I really thought Newcastle were really inept in their attacking 20. There's no real construction or plan to what they're doing it just gets bogged down."