F1 drivers explain after no collective knee
Last Updated: 09/07/20 3:53pm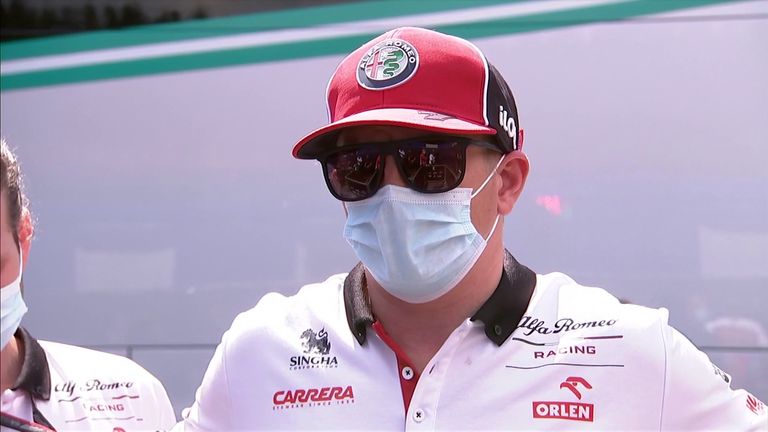 Formula 1's drivers have explained their differing stances on taking a knee ahead of last Sunday's Austrian GP after 14 of the 20 on the grid made the gesture.
In a public show against racism and discrimination ahead of F1's season-opening race coordinated by the Grand Prix Drivers' Association, all 20 drivers wore T-shirts featuring the message 'End Racism' as they gathered at the front of the grid ahead of the race. Lewis Hamilton's T-shirt also included 'Black Lives Matter' on the front.
But while 14 drivers also took a knee, six did not, meaning there was no collective gesture as seen in other sports such as the Premier League and by the England and West Indies cricket teams before the first Test on Wednesday.
Charles Leclerc and Max Verstappen said on social media ahead of the race why they would not be doing so, while other drivers have explained their own personal stances as F1 returned to the Red Bull Ring on Thursday ahead of this weekend's Styrian GP.
Romain Grosjean, who is a director of the GPDA, told Sky Sports: "There were a lot of discussions and we wanted, and we had, 100 per cent of the drivers united with the message 'End Racism', which was something very important for all of us.
"After, everyone has got a different way of showing his support to the movement and I believe that taking the knee was the right message as a sportsman to emphasise the 'End Racism' T-shirt that we had.
"But some had a different view and we can all have a different gesture for something that you mean. The GPDA we were very happy that 100 per cent of the drivers were in line with what we wanted and showed the support to Formula1, We Race As One and End Racism."
Russian driver Daniil Kvyat was one of the drivers who did not take the knee and he has explained why that was the case.
"It obviously became a sensitive topic and won't explain that, of course, our clear sign on Sunday before the race was to wear the t-shirts which were stating End Racism," Kvyat said.
"I thought it was already a very strong message to the world in general from the sport, from myself. There were other options to express your feelings also in some other ways and some people chose to do it, some people chose not to do it.
"For me, I would say my mentality it doesn't really, and in my country, it doesn't really allow me to go on my knee. It's only for a very particular reason.
"I am ready to show in any way that I am against racism. But the knee is something that I opted not to do on Sunday."
Kimi Raikkonen was another not to perform the gesture and said everyone has the right to make a personal choice.
"I think generally everyone has the right to do what they feel like," said Raikkonen to Sky F1.
"All the drivers are definitely against racism and we all had the shirts. I'm more than happy to help on these things but in the end every individual has a right to do how they feel most comfortable.
"F1 and all the teams are doing the best that they can so I think it's a bit crazy to question things but that's how the world is unfortunately."
Haas driver Kevin Magnussen made clear that while he did take the knee, it was not in support of any specific political movement.
"We talked about it as drivers what we could do to show our solidarity and support for this movement going on in the world right now," said the Dane.
"Obviously some drivers didn't decide to take the knee, some did. I decided to take the knee. I thought about it whether I should do it or not.
"At the end of the day I didn't want it to be associated with the particular movement, Black Lives Matter. That organisation, I cannot agree with all they stand for, but I can agree to end racism and to be in support of ending discrimination against black people. That's why I took the knee.
"I thought from my side that was the correct thing to do. I have no issues with the drivers who didn't choose to take the knee. We are all united in the fact that we are against racism, we are trying to put an end to this and I think every driver and every person is free to show their thought and how to get that across in their own way."
Racing Point's Sergio Perez said: "I did it to support anti-racism globally. I don't think it's any specific way, I just want to support it all in global terms. I don't think there is any plan for this weekend but we will discuss with the drivers."
More to follow…