LIVE: Unlucky Raiders hit by double blow
The Raiders copped a double blow late in the first half with hooker Josh Hodgson going off with what appeared to be a serious knee injury and winger Bailey Simonsson sin-binned in what was described as a "bad call" from the referees.
Simonsson was given his marching orders when he was ruled to have taken out Josh Addo-Carr in a try scoring position but it wasn't clear-cut.
The Canberra winger turned and chased a Storm grubber about 20 metres out in the greasy conditions and came in contact with his opposite number unintentionally.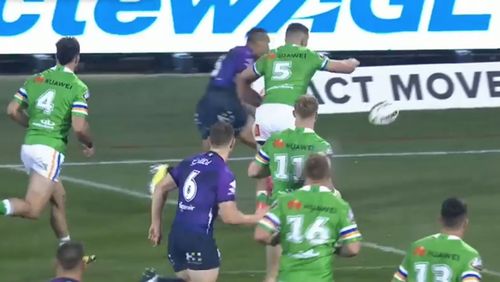 Simonsson went for the ball but in the process collided with Addo-Carr and the referee ruled he took the man not the ball – in what was deemed a bewildering call from the bunker and referee.
The incident was very similar to one at Lottoland last weekend where Sea Eagles winger Tevita Funa appeared to be taken out off the ball by Bradman Best after he put in a grubber just metres out from the try line in a final effort play to steal the match. The bunker let it go but the NRL confirmed days later it should have been a penalty.
Commentators couldn't hide their disappointment over the Simonsson sin-bin.
"I thought he was going for the football," said Greg Alexander for Fox Sports.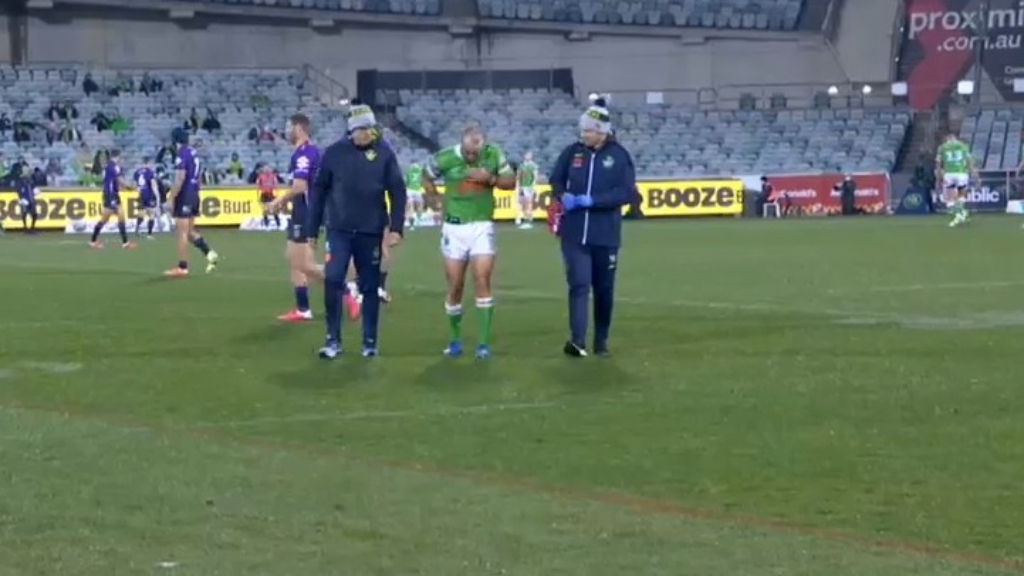 "He doesn't even know Addo-Carr is there. He turns late and takes three or four steps and Addo-Carr lunges into him. He's not even looking at him. That's a bad call."
Off the back of that decision the Storm scored with the one-man advantage – funnily enough through the Melbounre winger down Simonsson's wing.
On top of that, inspirational hooker Hodgson limped off the field after suffering a knee problem.
He was seen hugging his teammates in the sheds at halftime in emotional scenes suggesting it is most likely a serious injury.
Hodgson has suffered an ACL injury in the past.