Dortmund Vs Schalke – Hummels: 'Why Bundesliga Position Doesn't Matter In Revierderby'
Borussia Dortmund centre-back, Mats Hummels, in this interview with Bundesliga media speaks on many interesting things, including today's long-anticipated Revierderby between his side and Schalke O4 at the Signal Iduna Park.
How was BVB's start to the season?
Hummels: "In principle, well. We progressed in the cup, picked up six from nine points, unfortunately losing one away game which happens to us too often, one where I saw the game more positively than others because we got rid of errors from previous games and the opponents scored two goals from two chances in 90 minutes, it happens and it happens to every team in the world. Nevertheless, we could have contested it better and so the overall impression is positive but with potential for improvement."
What do you think of the team's performance levels?
Hummels: "I think we've already learned from last season's mistakes. In areas such as giving away easy possession, also in defensive discipline and stability, I believe we're better than last year, at least that's how I see it now based on a short period of time. These are things which gave us plenty of problems last season, where we gave our opponents the ball cheaply. I also think that through the players we held on to as well as our transfers, we have a lot of quality."
Do you currently have sympathy for Schalke?
Hummels: "I'm not sure what you would call it. I've been watching and I'm completely surprised by what's happened, considering the good start they had last season. Such an extreme collapse, or however you want to describe it, you'd think they will get a hold of the situation soon. We know that the wounded team in the derby is often the most dangerous as they see it as a chance of redemption, so unfortunately what has happened in the last few months will not necessarily be reflected in the
derby."
Why does league position not matter when it comes to the Revierderby?
Hummels: "Yeah, they're somehow these special games, I cannot explain exactly why it's so, but with Dortmund we've been able to win it easily, such as 3-0 in 2016 I think, but we've also managed to lose despite going into it in a position of strength. It's a game which, through the emotions on the pitch, can take completely different turns from one game to the next."
Also Read: 'Mother Of All Derbies' – Dortmund Vs Schalke Headlines Bundesliga Matchday-5 Clashes
What is your favourite moment from the derby?
Hummels: "I liked the derby in, I believe it was 2010, which we won 3-1 through a brace from Shinji Kagawa and one from Lewandowski from a corner I think, then the celebration at the bus stop as we arrived with the fans there. It was a cornerstone for the amazing success we would have."
Where you a bit nervous in your first Bundesliga game?
Hummels: "I was totally unsettled, that's for sure, it was the big goal which I'd worked on for so long. Now for Erling, he had already played in the Austrian top flight and Jude in the English second tier. These are situations and moments which you'll never forget, the small situations as well as the big hoopla surrounding the game and fulfilling the dream of playing in the Bundesliga. When I was 14 or 15, I would never have thought I'd play hundreds of games, rather I hoped to get to play in a game, however I could. To achieve that was a big thing and for my previous club, where I played 11 or 12 years, taking the steps from the under 7s or bambinis to the professional level was a huge ambition and dream of mine."
Did you have a different mental state back then compared to now?
Hummels: "It was completely different, absolutely. I was incredibly nervous in the bus to Cottbus for the first game. Then I played as a right-back under Thomas Doll, I didn't play like me that day, as I was so unsettled, I just tried not to do anything negative, playing error-free and the first 45 minutes were completely unlike me as a player and a person. It took a while to get into my groove and I'm still nervous before a game but I go onto the pitch with a completely different self-identity now."
Who helped you back then?
Hummels: "The coach Thomas Doll and some teammates who knew from training that I was acting differently on the pitch, telling me I should do my thing and have confidence in myself, that I'm here not because I deliver in training but that I should perform at that level in the match. I think the second half was then clearly better, without knowing for certain because I only remember the first half."
What do you do now when you notice a young player is nervous?
Hummels: "Yeah, I just go over to them, ask them how they are, whether they are nervous. It has to be said, many of them are already hard-nosed and cool at their young age, I don't think there are many nerves in their game. But if I do notice it, perhaps on the pitch after a couple of mistakes, I go over to have a word, build them up shortly if it's during the game or maybe after the game ahead of the next one."
Gio Reyna always appears so serene. Is he never nervous?
Hummels: "I think it looks that way. Honestly, I cannot go and ask every time if he's nervous but that is an artform, to let things slide, which you work for years on, I think it's the case with every sport, when there is internal pressure to make people believe that it doesn't affect you. Maybe for Jadon with his dribbling, which he's worked on for years, is as easy for him as it appears."
Are young players now breaking through earlier than ever before?
"They certainly get trusted earlier, that you can say. It used to take a lot longer to really break through, you might get brought on for a few minutes but it was incredibly rare to see a 17, 18-year-old become a regular, so it's difficult to compare. But what you can say is that the quality possessed by many 16, 17, 18-year-olds is genuinely very good."
What do the young players still need to learn?
Hummels: "Above all else, what should be done in a specific situation in the game, you could discuss this for a long time. There is the topic of risk-avoidance, at which scoreline should I play with a bit more risk. Analysing situations such as 'is there a chance my team will score here?', in which case we can go on as normal, or do we have to try something special. I think you learn a lot of that with time and you can improve a lot, only if you're interested in that aspect of the game, and understand the flow of the game better. I know when I just need to keep the ball moving and I don't need to try and play a wonder pass through the middle, but when I see we're not getting through at all, then I may try to do something a bit riskier. When it's 1-0 to us, I won't do that but it's about seeing how the game is developing and where we can create an opportunity."
Also Read: Bundesliga Int'l Extends Contract With Setanta Sports In Eurasian Market, Seals New Ukraine Deal
Were you curious to get to know Youssufa Moukoko in training?
Hummels: "Absolutely. I think it is very interesting to see how good
a 15-year-old is to first of all score so many goals in the youth team, it's a different story with the professionals, and I was very curious to see what kind of player he is as I hadn't seen more than some goals and highlights, to
see how he is in training, not test matches though as he is still too young. So it'll be exciting to see how he gets on over 90 minutes in a friendly, which is more informative when judging how far he can go."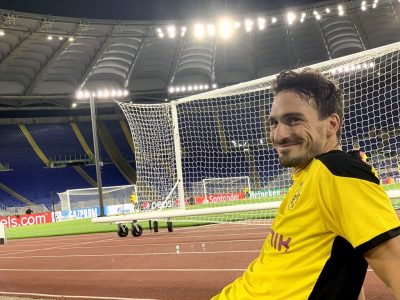 How far can Youssufa Moukoko go?
"First of all, I can say he is a really good player, it's not a case of just being bigger than the rest, which happens at underage level. He is simply a good footballer, he does a lot of good things, plays intelligently and if he can adjust to senior level football then he has a good shot at a big career."
What makes Axel Witsel stand out?
"He is the leader for our French-speaking guys, I think we have six, seven or eight guys with French as their mother tongue or only language. His stature and presence makes him a focal point, I think he has a great influence over all of the young players who feel most comfortable talking to him in their native language."
Axel Witsel is a phenomenon as well, right?
"Exactly, he radiates something. Whether he is on or off the pitch, that is how he is."
Is it fair to say Axel Witsel is often serious on the pitch but has a lot of fun off it?
"He never turns it off, he is funny in the dressing room but then switches it on the pitch and assumes his role."
How important is "der Klassiker" against Bayern in the title race?
"Of course, it is extremely important. Last year we picked up no points, Bayern got six, after the direct duels we were six points behind in second, you can do the maths to see what would have happened if we won one or both matches. In these games, it is important not to lose points, if both teams win one, it's ok, if both are draws, it's ok. Once one team wins both or picks up four points and the other just one, it is a huge advantage to work with."
Copyright © 2020 Completesports.com All rights reserved. The information contained in Completesports.com may not be published, broadcast, rewritten, or redistributed without the prior written authority of Completesports.com. How I make $10,000 monthly in Online SALES? apply the *Social Media Marketing Strategy* and watch your account balance swell. Buy eBook NOW!!!