LIVE: Geelong sparked by Ablett's miracle return
Patrick Dangerfield has made his mark on this game with the first goal of the second quarter and he could have almost had another.
This is being played totally on Geelong's terms at the moment, but they've got to make it pay on the scoreboard.
"It's probably all on their (Geelong) terms, they even won the grand final sprint at quarter time," Bartel tells 3AW.
"Cam Guthrie was absolutely super, seven touches, five clearances and a goal, I think they've got the game on their pace and their tempo.
"They're absolutely camped in their backline at the moment, Richmond. They've got no run and carry, they can't find a release mark or even a stoppage.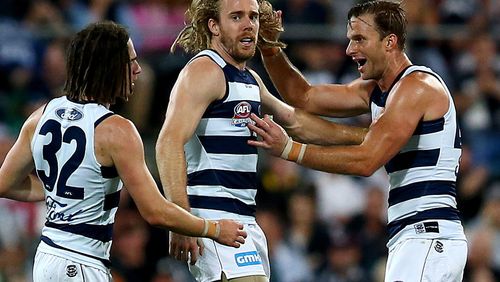 "This is the worrying thing for me, they're trying to get it forward to a contest, but when they turn it over, the Cats are sprinting so much harder off the turnover."
"I think the game has been more in Geelong's favour. The setup of the game, whatever Geelong have pre-planned, it's going well," Leigh Matthews adds.
"This is vintage Selwood. It's been the Selwood of old, I don't think he's been that good for most of this year, he's been injured a lot, but he's been superb tonight."
"25 marks for the Cats, six for Richmond. It just shows they're getting the game on their terms," Essendon great Matthew Lloyd adds.
"Richmond are just scrapping, whereas Geelong are playing silky smooth footy and creating good scoring opportunities."